Ableton Live is the ideal DAW (digital audio workstation) for beginners who are serious about music production.
Sure, there may be DAWs that are more user-friendly or cheaper, like FL Studio or Cakewalk. However, Ableton is the industry standard for music production and the most widely used by our favorite artists.
Many people make the change to Ableton eventually, so why not save yourself the time and needless cash and commit to a DAW that has everything you need and more.
No, this is not a paid endorsement. You came here to find out 'is Ableton Live good for beginners', and I genuinely believe it is.
Keep reading to find out why.
Where To Begin
I did not start my production career with Ableton Live. I originally started with Cubase and then FL Studio, another big hitter in the DAW world. However, like a lot of producers, I eventually made the switch to Ableton.
Initially, it looked intimidating compared to the simple layout of FL Studio. However, I soon learned that Ableton is not as difficult as I had anticipated.
Once I made a move, I kicked myself for not making the switch earlier. There was so much more I could do with Ableton, and my tracks benefited from it.
That is not to say that it's perfect, though, as there are some niggly bits that do get annoying. I will get to those points shortly. For now, I will present the features of Ableton Live that make it a good DAW for beginners.
There Are Tons Of Ableton Tutorials Online
Most online guides on producing music tend to use Ableton, and the last time I checked, this still holds true. Many big-name electronic artists use Ableton, making sense for people teaching those styles to create an Ableton tutorial.
Recording Is Easy In Ableton Live
I record music and have done so for many bands. For the life of me, I could never figure out how to record audio in FL Studio properly.
In contrast, recording in Ableton is easy. It only takes a few clicks of the mouse to arm a track for recording. Click the icon that is shown in red, and record.
Mixing Is Easy In Ableton Live
The inbuilt mixing plugins in Ableton can make for industry-standard sounding tunes.
In this way, even bedroom producers can release professional quality sounding tunes if they are willing to put in enough time (and watch enough YouTube videos).
The Onboard Instruments Are Incredible!
Did you know that Skrillex used Ableton Live's Operator plugin in his early music to create that iconic abrasive bass sound?
I, too, use it frequently to create smooth, deep, and controllable sub-bass in my tracks. It is effortless to use and versatile, and it comes with the suite versions of Ableton Live.
To compare the editions of Ableton Live, click here.
Convert Audio To MIDI In Ableton
Ableton Standard and Ableton Suite editions have the awesome feature of converting audio samples to midi with two clicks of the mouse button.
This allows you to take any sample, be it a melody or a drumbeat (even vocal clips work), and turn it into MIDI.
You can then see the approximate notes, chords, or beats of the original sample, mapped out on the piano roll.
Not only can this help to learn the chord progressions of your favorite songs, but it can also help to inspire your own melodies and beats!
Simply take the notes and mess about with them on the piano roll. voilà! A brand new song.
If this feature existed years ago, we wouldn't have many great song ideas lost to oblivion.
Speaking of which…
Retrospective Recording
I believe this feature was introduced in Ableton Live 10, and man is it a doozy.
Say you are jamming with an inbuilt instrument or VST plugin like Serum. In a moment of inspiration, you create an amazing hook, but you forgot to hit the record button!
No worries, Ableton has you covered.
If you hit the square button (see image above), you will notice that a midi clip will appear on the track you were playing the instrument.
It only records a few bars, but usually, this is all you need to recreate your masterpiece.
In other words, Ableton is listening just in case you come up with something good.
Ableton is listening… better grab the tinfoil hat. 😉
Ableton Automation
This is something that Ableton does incredibly well and is part of the reason I moved from FL Studio to Ableton Live. The way automation is done in Ableton is highly intuitive.
The DAW allows you to automate almost any perimeter of any instrument or effect in a way that is easy to see on the clip you are automating.
However, automating can be very fiddly if your hands are shaky since a tiny little nudge to your automation points can make a huge difference. Alas, there is always the 'undo' button, or you can record the automation in real-time using a MIDI controller.
Ableton Warping
This is one of those features that people either love or hate. I personally love it.
The idea is that you can warp samples to match the tempo of your project. However, Ableton has provided different algorithmic options for doing this.
So while some options may easily realign your sample to match the tempo, others will drastically change the sound of your sample.
Audio producers, like Andrew Huang, frequently use these warping features to intentionally change the sound of a sample by stretching it out, shortening it, looping it, and trying all sorts of warping automations, all with the warping function.
Ableton Audio Effects
Ableton Live has a whole host of effects that you can use for any number of purposes. Some of my favorites include the auto-filter, saturator, and compressor, which come standard on all editions of Live.
Want to make that cool wooshing sound that comes before the drop? Use an auto-filter.
Want to add harmonics and warmth to a sound? Use the saturator.
Want to make your track punchier or make space for the kick? Use the compressor.
The higher-end editions of Ableton Live come with many more effects. However, I mostly use these three above, the EQ and limiter (also available on all editions).
For the full list of audio effects, click here.
If you are chasing after more specific or unusual effects, as well as those modeled after well-known sounds or artists, you can take a deep dive into the world of plugins.
Plugin Compatibility
Want to make phat wubs? There's a plugin for that.
Want to make your instrument sound like a choir of angels? There's a plugin for that.
Want to sound like Tiesto? There's a plugin for that.
With Ableton Live, the whole world of sound creation is your oyster. Well, almost.
Safe to say that most third-party plugins are compatible with Ableton. In fact, I would go so far as to say that Ableton Live is the most compatible DAW for plugins on the market.
You can even plug other DAWs inside Ableton! Or so I am told…
Ableton Live Bad Points
Regarding fairness, I cannot recommend that beginners shell out their savings on a DAW without mentioning the more annoying aspects.
For all its glorious achievements, Ableton does have a few things that most users wish they'd change.
Here's a few of them…
The Piano Roll Is Super Fiddly
I mean, look at this thing. One of the most common complaints about Ableton Live is that its piano roll is too small, congested, and too fiddly. It is easy to mistakenly add a note or move a note when using it.
However, the counterpoint to that complaint is that the piano roll allows you to be super precise.
If being super precise is not what you're going for, or if you're happy with rigid beats that are on the beat rather than being behind or in front of the beat (i.e., swing), you may have an easier workflow using a sequencer, the like the one found in FL Studio.
Some Automation Tweaks Cause Strange Pitch Shifts For No Apparent Reason (A Known Glitch)
There is nothing worse than spending hours or days on a track and then discovering that something has gone audibly wrong, with no apparent cause.
All of a sudden, the pitch of one of your instruments has completely changed.
You search for hours, not realizing what has gone wrong. For Ableton users, this is an all-too-relatable nightmare.
So what has gone wrong? Well, there seems to be a glitch in Ableton Live that changes the pitch (or other parameters) within midi clips that have been automated.
Although it can be a painstaking task to solve this potentially song-destroying problem, the glitch is well known.
The simplest way to fix the issue is to insert a node at the start of the automation and then delete it. I have no idea why this works, but it does.
There, I just saved you hours of disappointment.
The Standard Reverb Kind Of Sucks (Cakewalk Is Better)
I have never been much of a fan of Ableton's stock reverb effect. Sure, it does the job, but it doesn't do a great job of it.
It can be useful for adding depth to a track. However, if you want your song to sound super-wide and lush, perhaps with shimmery after effects, you need to use an external reverb plugin.
This is a shame because other DAWs (such as Cakewalk, which is free!) have much better reverb effects. In fact, I wish the reverb effect from Cakewalk was available as a plugin.
Having said all of that, the Convolution Reverb that comes with the Max For Live Essentials inside of Ableton is excellent.
Beat Design In Ableton Is Not Exactly 'Quick'
Hands down, FL Studio, wins when it comes to designing beats quickly. The FL Studio sequencer (shown below) is far more intuitive than Ableton Live's 'Session View,' where most beat-making occurs.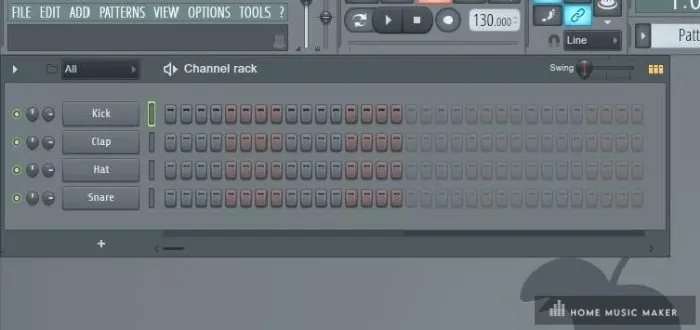 In all honestly, I have spent years using Ableton, and I think I've used the session view for sequencing maybe three times. I do have it open on a second screen when mixing a track down, though.
To be fair to Ableton, it does have a drum rack. You can add samples to different slots and use them as a sequencer.
This can be good for cooking up ideas, and many people use it to make beats.
Personally, I set out the drum 'hits' and samples in the arrangement view, which helps with mixing. However, there are many ways to cook an egg, so to speak, so you may find yourself using the drum rack more than I do, and it is something I'm beginning to use more often.
In case you are wondering what the drum rack looks like…
You insert your samples into the 'buttons,' which can be triggered with a controller like the Ableton Push. Or you can create a midi clip and use the piano roll, which will be mapped to the samples in the drum rack.
What About Using Ableton For Live Performance?
Many people use Ableton for live performances. In fact, it is one of the many perks and reasons why people use Ableton Live.
However, since I have not used it for this purpose, I cannot say much about it.
Compare The Market
When it comes down to it, the real decision about which DAW to use needs to come from you. I have used Cakewalk, Cubase, FL Studio, Audacity, Studio Magic (a lesser-known but pretty great DAW), and Ableton Live.
I personally vouch for Ableton because it seems limitless in what you can do with it.
Sure, the learning curve is quite steep. However, the time spent on learning is time well invested.
Regardless if you are producing electronic music or recording country music or death metal, Ableton has you covered with all the tools you need to make your song sound as good as it can be.
Is Ableton Live Good For Beginners – FAQ
Is Ableton Live easy to use?
Without undermining everything I wrote in this article, Ableton is not easy to use at first. It really does take some practice to get the hang of it, but you could say that about most DAWs.
Fortunately, there are thousands of videos on YouTube that can help to learn the basics quickly. Once you get a foothold, the rest becomes easy. And, if you're anything like me, you will enjoy the process.
Which is easier, FL Studio or Ableton?
At first, I found FL Studio to be easier. It is more intuitive in its design compared to Ableton Live. However, once I started getting into serious music production, where I would use automations and recorded audio, I found Ableton more intuitive in its workflow.
In other words, FL Studio got me so far, whereas Ableton took me the rest of the way.
You may or may not have the same experience. There is nothing wrong with using either DAW.
Why is Ableton Live so popular when it is so difficult to learn?
It isn't until you start learning and applying the features of Ableton that you learn how powerful this beast of a DAW is. I honestly cannot comprehend how it does some of the things it does. Therefore, I think it is so popular because it allows you to do literally anything to your sound design.
As far as I can tell, there is nothing that the creators of Ableton Live have not considered in their design of the DAW. In fact, I am convinced they are inventing new ways of manipulating sound with each new edition they bring out.
What famous artists use Ableton?
Gosh, there are so many! Some of the artists I know who use Ableton include Alison Wonderland, Rezz, Rachel K Collier, Bassnectar, and Andrew Huang.
Some producers use multiple DAWs for different purposes.
Do any professionals use FL Studio?
Yes! Apparently, Martin Garrix, Avicii, Afrojack, and Basshunter use or have used FL Studio.
In fact, FL Studio is very popular in the Trap and Hip-Hop genres because its sequencer makes beat-making a breeze.
How long does it take to learn Ableton Live?
Like most skills, you never stop learning. This points to the vast potential that Ableton has.
People are constantly coming up with novel ways of using Ableton Live's effects, midi effects, and instruments. However, to give a simple answer: you can probably learn the basic skills of beat-production, using midi and basic effects within a couple of weeks, if you put your mind to it.
What DAW does Kanye use?
A quick Google search suggests that Kanye uses Pro Tools.
Final Words
So, is Ableton Live good for beginners? Absolutely. And with its free 90-day trial road testing it is a no-brainer.
It's worth remembering that any DAW requires a learning curve, and Ableton is no exception. However, Ableton has an amazing community of users who are always willing to help on forums or Facebook groups should you ever get stuck.
If you're serious about producing music, I don't think you'll be disappointed with choosing Ableton Live. With the latest version, Live 11, having recently been released, you can be safe in the knowledge that you will have the latest features and developments to keep you at the cutting edge for years to come.