Whether you are considering purchasing a secondhand license to an older version of Ableton Live Suite (yes, you can do that) or diving straight into the feature-packed Live 11 Suite, you may be wondering, 'is Ableton Suite worth it?'
Let's look at a few considerations for and against buying Live Suite and my reasons for choosing Suite or Standard editions over Live Intro (Ableton Live Lite).
What About The Cost?
Let's be honest, Ableton Live Suite is EXPENSIVE. But then again, so too are all the odds and ends that allow us to do audio production.
Your computer probably costs a lot, so too your headphones, monitors, audio interface and instruments.
Your digital audio workstation is an essential element of your setup.
So should you invest in Ableton Live Suite?
Before you shell out on Suite, let's weigh up your options and compare it to its smaller siblings, Ableton Live Standard and Ableton Live Intro.
It Provides Endless Potential
If you are serious about audio production, you are likely to make a move to the fully functioning Ableton Live Suite.
Compare Ableton Live Suite's 17 virtual instruments to Ableton Live Standard's 6 instruments or Ableton Live Intro's 4, or Ableton Live Suite 11's whopping 59 audio effects to Standard's 36 and Intro's 21.
Within those differences, there are whole worlds of musical exploration that you will want to explore.
Furthermore, having endless amounts of tools to play with can be a motivator actually to produce.
While bewildering at first, the Ableton Live Suite edition encourages you to tinker. I will grab a stock plugin and see what it does, motivating me to try the other instruments and effects differently.
In this way, Ableton Live Suite's box of toys is just, well … bigger. Who doesn't want a bigger box of toys?
It Has More Than You Need
In contrast to my prior points about Ableton Live Suite having a seemingly infinite array of tools to use, another way of thinking suggests that you don't need all the bells and whistles.
This way of thinking optimizes simplicity instead of having too much at your disposal. The reason for this is that limitations can enhance creativity.
My prior self would have resonated with this philosophy. I remember making beats using a $20 synthesizer and a tape machine many moons ago. However, I can't see myself returning to bare-bones producing. I have come to see limitations as just that… limitations.
If you have an idea in mind, but your DAW does not have the functioning to do it, you are stumped.
You Can Have Unlimited Tracks
Admittedly, you can start with Ableton Live Standard edition as well. If you think you can get away with a maximum of 16-track audio recordings, you may get away with using Ableton Live Intro. Otherwise, you will at least need Ableton Live Standard for your audio recording needs.
Speaking of audio recording, the latest editions of Ableton allow for comping. Comping is when you can take multiple recordings of the same section of your song without having to stop and arm a new track.
Comping is available on Ableton Live 11 Intro, Ableton Live 11 Standard, and Ableton Live 11 Suite.
Ableton Live Suite's Software Instruments
One of the advantages of the Suite edition is that it comes fully packed with Ableton's virtual instruments.
These do not come standard with the Intro or Standard editions.
While Ableton's stock instrument rack may not look sexy, they are powerful and are very friendly to your CPU (unlike some external plugins).
For instance, I cannot do without Ableton's Operator instrument.
Operator makes it incredibly simple to add smooth sub-bass to my tracks. While you can do this with other plugins, the lower frequencies made using Operator's sine wave are perfect and come without some artifacts that seem to emerge inexplicably from external plugins.
I use Ableton's Analog wavetable synth in my tracks to add warm pads, along with the Collision instrument to create strange metallic sounds and bell-like melodies.
You could buy each instrument individually, but by the time you've bought a few instruments, you may also have opted for the Suite edition.
Simplicity Of Design
Ableton's stock instruments are simpler to use than most external plugins, which can help to improve your workflow.
Take, for example, Ableton's Operator compared to this Helm synth by Matt Tytel.
This leads me to …
Why Not Just Use External Plugins?
While Ableton Live Intro and Standard may have limited effects than its bigger sibling, Live Suite, they are not limited in the VST plugins that you can install.
Therefore, if you choose to go with a less expensive edition of Ableton, you can still use VST plugins from external companies to suit your needs.
For instance, Ableton Live Intro does not have an EQ Eight plugin. If you don't want to be stuck using the simple EQ Three (low, mid, high) equalizer that comes with Live Intro, you can install a third-party equalizer like Ozone 9 Equalizer. There are also many free plugins out there …
If you think that you will mostly use external plugins, then you may be better off getting the Standard edition of Ableton.
I still think that Ableton Live Intro is too limited due to its maximum of 16 tracks and 2 sends.
However, be aware that external plugins are typically more intensive on your CPU than Ableton's stock plugins. Furthermore, external plugins run the risk of crashing your DAW.
Ableton Live Suite Comes With Sound Libraries
If you are the type of person that uses samples in your music or likes to get inspiration from samples and sounds that have already been designed, then Ableton Live Suite has you covered.
It comes with multiple sound libraries, ranging from orchestral instruments to drum beats to those wobbly bass sounds that we enjoy.
Why Not Find Your Own Sounds?
However, I cannot recall ever using the stock sounds that come with Ableton Live Suite. I am very choosy about the samples I use, and I usually have a specific idea in mind for the sample I want before I go out and find it.
For this reason, I prefer subscription sample services like Loopcloud.
Using Loopcloud, I search for the keywords that describe the sample I am after, and usually, I will find something that suites my needs fairly quickly.
I find the whole process much quicker than searching through Ableton's packs for samples that may not be labeled in an easily identifiable way, so something else to consider.
Click The Banner Below For You Free Loopcloud Trial.

Convert Audio To MIDI
Ableton's Audio to MIDI function is a function that allows you to convert any audio sample into a MIDI clip, therefore showing you the chords or beats played in the sample.
This is an astounding feature that I cannot do without since it helps me identify how certain melodies, harmonies, progressions, and beats were arranged.
This helps with my own song-writing and with forming ideas.
This feature is NOT available on Ableton Live Intro. It comes stock with Ableton Live Standard and Live Suite. This is another reason why I think it is best to go with the Standard or Suite editions of Ableton Live.
MAX For Live
Another feature that comes stock with Ableton Live Suite is MAX for Live. MAX for Live is a suite of plugins that allow you to take unique control of your instruments and effects.
For example, you can map the LFO or Envelope plugins that come with MAX for Live to any instrument or effect perimeter to change how it modulates.
This can be used to create all sorts of effects in your production and when performing live that would otherwise be inaccessible using the standard functions of most instruments.
Note that MAX for Live can be purchased as an add-on for Ableton Live Standard but not for Ableton Live Intro. Whether or not MAX for Live is something you will use depends on your production needs.
Gauge Your Needs (And Wants)
Whether or not Ableton Live Suite is worth it depends on your wants and needs.
If you are a garage band wanting to throw a demo together, Suite is probably not worth the cost. You could get away with using Ableton Live Intro.
If your production needs are a bit more advanced but don't think you will use Ableton's stock instruments or sound libraries, Ableton Live Standard will suffice.
It has all the mixing effects you need. However, if you are an electronic music producer or are looking to get into sound design, Live Suite has everything you need.
Is Ableton Suite Worth It? – FAQ
Should I buy Ableton Standard or Suite?
Assess your needs and wants. If you are a recording artist that needs multiple tracks, multiple inputs, and basic mixing effects at your disposal, then Standard will suffice. However, if you are mostly focused on sound design, you should consider getting Ableton Live Suite.
Is Ableton worth the money?
For sound-designers, score-designers, foley artists, electronic music producers, and orchestras – yes. For garage bands with just a few instruments – probably not.
What is the difference between Ableton Standard and Suite?
They both have unlimited tracks. Suite has more instruments, effects, and sound packs than Standard. Suite also comes with MAX for Live, whereas it can only be purchased as an add-on for Ableton Live Standard.
Why is Ableton so expensive?
Ableton is so expensive because its features are powerful and lightweight on your CPU. It can be used for music production, music recording as well as live performances.
What DAW do professionals use?
There is no single answer to this. Professionals use different DAWs that suit their needs. Some producers use multiple DAWs for different purposes, such as recording, producing, mixing, and mastering.
Which DAW is right for you?
Consider your needs. Are you a band looking to record? Are you a music producer? Do you plan on performing live with a DAW? All of these considerations will help you to decide which DAW is right for you.
Final Words
Over the years, I have used many types of music production software, including; FL Studio, Logic Pro, and Cubase, but I always maintain that Ableton is my favorite.
I'm sure if you have read this article, then you are already in the Ableton camp and hopefully have a better idea of which version is best suited to you.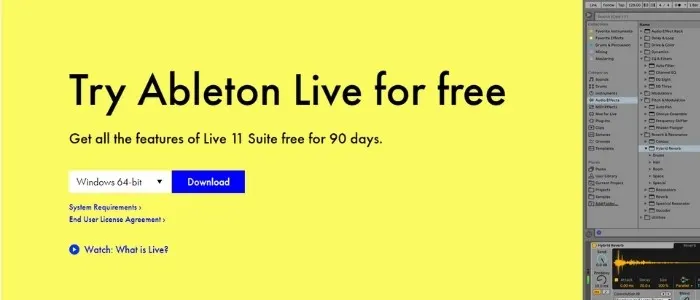 If you are still on the fence, Ableton offers a 90-day free trial, so you can put everything we've discussed and more through its paces before committing your hard-earned cash.
Yes, Suite is expensive, but you get some serious bang for your buck and superb features to undertaker any project you plan to work on.