Identifying chord progressions by ear is one of the most valuable skills a musician can develop regardless of the genre he's involved in. It will enable you to interact with other musicians through improvisation, learn batches of songs quickly and be a great asset in the studio environment either as a performer or a producer.
In this article, I'll discuss some useful strategies you can consider if you're trying to improve your ears and better recognize chords and melodies on the spot.
Let's dive in!
Before You Start
Training your ears is a skill that's tackled from various sides. There definitely isn't a single method that guarantees you'll get good at it fast. Aside from just "trying to figure out chords by ear," there are a couple of useful guidelines that can help you improve more efficiently.
We'll start with the basics.
Step One: Learn Your Music Theory
You might be wondering how a comprehensive study of music theory helps you identify chords, but there's a pretty simple reason for it. It helps you narrow down a list of all the possibilities.
Let me explain what I mean by that.
Let's say you're listening to a cheerful and uplifting song. We can safely assume that it's a major key in question (major=happy, right?).
Once we figure out the key of a song (for example, C Major), we can be pretty sure that we won't have a C#, F#, or G# in there.
By knowing theory, we can vaguely guess what kind of sound such notes would produce in a major key (definitely not ones that scream cheerfulness).
If the song sounds diatonic and fits the frames of the key center, you can immediately tell which chords aren't there and thus save yourself a lot of time and effort.
Another benefit of learning theory is that you get to thoroughly explore lots of chord combinations and work on your musical memory (more on that later).
Getting to learn just the chords of a major scale will probably equip you with the tools you need to identify 80% of today's popular music.
The theory is just a way to organize and explain stuff that works and is being used all the time, so it's well worth the effort to figure out at least some of the basic principles.
Step Two: Learn As Many Songs As You Can
While music theory can help, nothing trains you to become the best musician you can be like learning and playing your favorite songs. Besides being fun, having an emotional attachment to what you're playing will also make you internalize chords more easily and in a short time.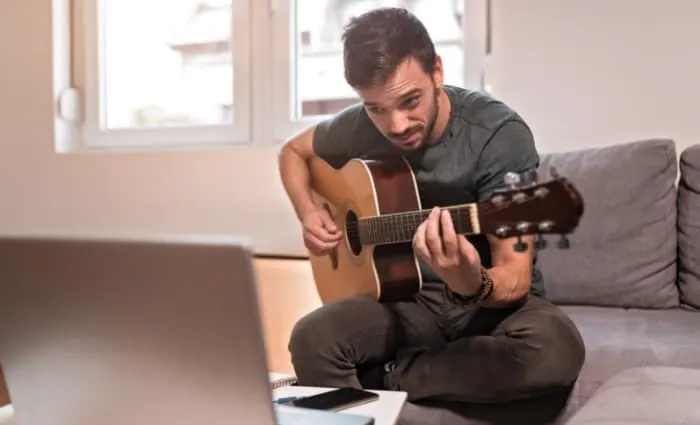 If you're starting, take your time and learn the songs by tablature, sheet music, or chord diagrams and learn as many as possible. Once you pass the 20 or 30 songs mark, you'll start to realize how many of the songs essentially have the same progressions arranged differently.
That's an essential step in internalizing the music and training your musical memory. With enough songs learned, you'll essentially have a library of references in your head, and as soon as you hear a new song, you'll go: "Hey, I've already played a song with this chorus or that verse!"
And after a couple of years of doing it, you won't even have to reference a certain track; you'll instantly know the chord pattern.
A big takeaway here is not to limit yourself to your favorite genre of music. Explore different styles, even if you don't fancy it very much. Learning things you're not familiar with can broaden your harmonic language and, in turn, make your ears accustomed to various chord progressions.
Step Three: Listen For The Root Movement
This one is as close as we get to a "trick" when it comes to identifying a chord progression by ear.
The idea behind this is to figure out the bassline of the progression and, in that way, get a vague idea about which chords are being played.
This is where theory can really work in your favor. By asking yourself, does the progression have diatonic chords, or does it have some intricacies, and If so, at which point in the chord sequence, you can get pretty close to nailing the progression right away.
If the bass plays C, F, and G, and there isn't a chord that sounds a bit out of place, you can be sure that all of the chords are major. However, if a chord sounds a bit exotic, you've already figured out half the chord by knowing the bass note.
It's just a matter of trying out different types until you find the one that works.
Step Four: Improve In Interval Recognition
If you have a hard time picking up bass lines, a good way to tackle this problem is to train your ears to recognize intervals. This will not only aid you in finding the root notes but also help you in figuring out the chords themselves.
All the chords are essentially built from combinations of different intervals. I'd advise starting with fifths and fourths and working your way up to the rest. It's important to take your time with a single interval and internalize the sound of it.
Play it starting from every note, randomize it, and then start playing your favorite songs by limiting yourself to using only a single interval. If you repeat this process with every interval, you'll be well on your way to effortlessly identifying chords as well.
If you'd like to maximize this, it's useful to practice playing intervals melodically as well as harmonically. Singing is also a compelling way to memorize the sound of intervals. It's all about mixing up various approaches and making the process fun and fresh.
Step Five: Train Your Mind's Ear
Once you feel confident that you can figure out chords with your instrument, it's time to take it one step further and practice your mind's ear. This means that all the guessing and identifying will be done in your head, without the assistance of an instrument.
It is the ultimate skill to have but also the trickiest one to master.
You can do a nice exercise while commuting to guess the chords being played on the radio, write it down, and check afterward either with an instrument or sheet music. There's a big chance you'll be wrong more often than not, but if you do it daily, you'll be surprised at how quickly your aural skills will improve.
Not having an instrument around will also force you to listen to the chord progression more carefully and develop a habit of analyzing everything you hear with greater precision.
Even if you're trying to figure out the chords using an instrument, it's a good habit to think for a second and guess the chord sequence before actually playing a note. The main idea here is not to rely too much on noodling around your instrument in search of a right chord, but instead train yourself to know which chords are being played right away.
Step Six: Transpose All Of The Songs In The Same Key
This method of training your ears can give you some amazing results, especially when it comes to understanding relations between chords.
Once we learn plenty of songs, all in different keys, our ears might get a bit confused. Sure, after years of practice, you'll eventually get to a place where you can effortlessly pick out various chords by ear, regardless of the key change, but there is a way to speed up that process.
We can make it easy on our brain by transposing all the songs we know in the same key. You can choose whichever key you like, as long as you stick to a single one.
After you do that, you'll really notice how most of the music is built around a couple of common chord progressions, and by not tricking your brain with differents, you'll develop a strong harmonic ear much faster than usual.
How To Identify Chord Progressions By Ear – FAQ
How do you identify major chord and minor chord by ear?
It's useful to start with focusing on the feeling and the chord quality. What kind of atmosphere does it create?
Major chords sound happy and bright, while minor chords sound a bit dark and melancholic.
It's useful to have these references when starting, as there's no real use in explaining the theory behind it at this stage.
If you have sheet music, why would you need to identify the chord progression?
Although relying on sheet music in the beginning is totally fine, you might fall into the trap of not being able to perform any music without it.
This means that not only you won't grow as a musician, but also you're likely to miss out on many wonderful opportunities to jam with other musicians.
Also, you will be at a great disadvantage in your professional career as a working musician as many situations will require you to react to the music on the spot.
How can you tell what key a song is in by ear?
Unless you have a perfect pitch, it's pretty hard to do it. You could perhaps work on your musical memory to a point where you can confidently recognize the notes being played.
But don't let that discourage you as trained musicians with a good relative pitch; figure that out in seconds with proper training.
How do you recognize the root if the chord is inverted?
That's a good question, actually. I always listen for the context, and by that, I mean the chords that came before that one and the ones that come afterward.
By internalizing many chord progressions, you'll instinctively hear the root that is being implied in the chord.
Additionally, some ear training in chord inversion can help a lot.
How many keys can a song be in?
Considering that there are 12 notes in the chromatic note system and 2 key types, that gives us the option of having 24 different key centers.
Is the key of a song the first chord?
Usually, that is the case, but it doesn't necessarily have to be so. Many songs start with a cadenza leading up to the actual tonal center.
What if a progression contains a chord that is outside of the main key of the song?
In such a case, it's useful to figure out the root note of the chord in question and try out different chord types (major, minor, 7th chord, diminished chord) until you find the one that matches perfectly.
Of course, this is how to go when starting, but you'll eventually want to reach a level where out of key chords don't sound foreign.
Is it better to read music or play by ear?
Both have their place in the professional world, so it's useful to learn how to do both to become a professional musician.
Is there an app that listens to music and tells you the notes?
There is a software called Melodyne that analyzes the audio and breaks it down into individual notes. It's a great tool to have if you have some troubles with a particular chord, but I'd advise against using it in the long run.
Final Words
After reading this article, you should be better equipped to identify chord progressions and melodies.
This will help your skills as a musician and enhance your appreciation of music in general.
Have any tried these strategies?
Let us know.