Massive and Serum. Two VST plugin synths even your mom has heard of. Both have been used by some of the biggest EDM and pop artists in recent years.
Both are powerful. You are probably are sick of people arguing which one is better.
Why don't we settle the score and answer the question, Massive X vs. Serum, which is better? (Just a hint: in my opinion, its Serum. But for the sake of this article I wrote, let's pretend you still don't know that.)
Let's begin…
WHAT IS MASSIVE X?
When released almost 15 years ago by Native Instruments, the original Massive shook up the market as no one could predict. Not even the German developers who made it.
If you weren't into music production at that point, it's hard to explain just how groundbreaking the modulation felt.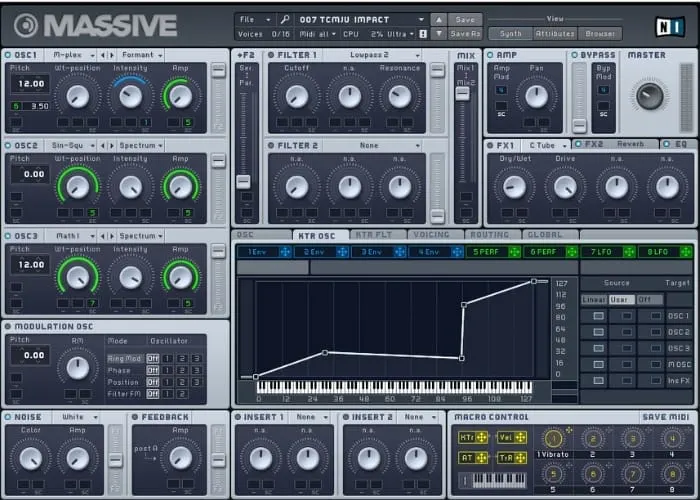 In fact, it helped create a couple of new EDM sub-genres as well. You can safely say that Massive has been as influential as any other synth in history.
To this day, you can find people on message boards swearing by it and recommending it. That's quite a legacy Massive X needs to live up to. Should we keep our expectations high or adjust them accordingly?
Massive X Basics
While some people may still think that Massive is the best EDM synth, in reality, a decade and a half is a lot of time. Massive has been overtaken in many areas by the likes of Pigments, Zone, and Serum.
If Native Instruments wanted to have a footing in the synth market, they needed to do something about it. Does that mean that Massive X is an update of the old VST?
Not quite. The two VST can coexist alongside each other, at least for the time being. You can still purchase the original Massive on the Native Instruments website, and the two aren't cross-compatible.
Do you know what that means? Well, Massive X is a brand-new synth. That can be seen as soon as you boot up the VST.
Native could've simply updated the old synth, gave it a makeover, and called it a day. But no. They created a fully modular synth. Massive X replaces this with a completely editable routing page where the original Massive combined cross-fade points and a partially interactive signal flow view.
For your average user, this may seem daunting. But it's perfect for creating your sounds.

Want to connect with other music producers for help and guidance?
Join our FREE forum today
and become part of our community!
Click Here
The synth starter palette has been simplified. Instead of three primary oscillators, there are now only two along with a single filter.
How much will the new Massive set you back? It depends. If you're an old Massive user, you can just $149 (£129) for the new version. However, if you've never used Massive before, you'll need to pay $199 (£179) to use the new one.
Massive X Features
What are some of the features Massive X comes with?
Do they give you more bang for your buck than the original? If you want to make up-to-date-sounding music, it does. But don't take my word for it. You be the judge.
Here's a quick overview of Massive X features…
Massive is a dual wavetable oscillator.
It comes with more than 170 wavetables.
The user has access to 10 wavetable mods, each with different sub-modes
You have additional phase-modulation oscillators compared to the original
A single filter with 9 different types and 9 slots for envelope modulation
There are also 3 performers for up to 8 different bars of modulations
System requirements are macOS 10.12, Windows 7, Intel Core i5 CPU, 4 GB RAM
WHAT IS SERUM?
On the other side of the spectrum, we have Serum. This Wavetable synthesizer plugin was created by Xfer Records, a company known for numerous tools, including LFO and Cthulhu.
The company creates plugins for both Mac and Windows users and has managed to carve out a well-respected name for itself.
At one point in the 2010s, every deadmau5 wannabe used some Xfer plugins to create the infamous dubstep wobble effect. The LFO plugin gave producers the ability to create side chain compression, auto-pan, and many other cool things.
Their mission to expand on this was achieved when they successfully launched Serum.
Serum VST Basics
When you install Serum, the first thing you notice is its wonderful visual display. That's what initially made it stand out in the sea of different synth VST plugins out there.
Just give one glance at the beastly bass, eye-catching pads, and diverse leads, and you'll instantly know why Serum is so critically acclaimed, both by music reporters and users alike.
Of course, that's not the only reason why Serum is so popular. The sound is super-clean, the learning curve is straightforward, and the features are so diverse that you can finally create all of the sounds that have been bubbling in your head.
Newcomers are often worried about originality. Well, Serum allows you to put your originality to the test.
You can use it to create your signature sound and go from bellow-100 plays on SoundCloud to earning that streaming and producing cash quicker than you think.
Whether you have a DELL or a Mac, you'll be able to install Serum on your laptop and start producing on the go. Another feature that's great for newcomers is the price.
The full version of the software isn't exactly cheap. In fact, at $189 (£137), it's priced similarly to the first plugin we discussed here. But you can have the demo version of the software for free for a short period.
Afterward, you can simply rent the latest version of Serum once your free trial is over. Some websites charge less than $10 for 18 months.
Serum Features
Google around for a bit. You'll find thousands of producers swearing by Serum. Why is it so? Is the software so superior to the rest of the competitors? What are the features that make it stand out so much?
Let's take a look at some of Serum's features…
The full version gives the user free lifetime updates.
It features 10 sound effects, all of them with unique capabilities.
It comes with a good number of complex filters, and the modulation is limitless.
The oscillators are extremely-clean sounding, and you can implement them easily.
The visual display is slick, easy to find your way around it, and gives real-time feedback.
The "drag-and-drop" functions allow you to change your sounds in a matter of seconds.
System requirements are OS X 10, Windows XP, 16 GB RAM, 2×2. 66GHz Quad-Core Intel Xeon running in 64-bit mode.
WHAT ARE THE DIFFERENCES BETWEEN MASSIVE X AND SERUM?
If these two weren't all that different, I wouldn't be writing this, but yes, there are some large differences between the Massive X and Serum.
Will these differences be enough to suede you to one side? I can't guarantee that. But you should still know the differences nonetheless…
Warping
On the surface, these two have similar warping abilities. But when you start using them, you realize that they're not the same after all.
For starters, massive X has the benefit of an FM selection and two additional modulation oscillators compared to Serum.
There's also the difference in warp models. Massive X may have fewer warp models, but it allows you to customize them more with various settings and controls. Add a dedicated FM section to the mix; you modulate and warp at the same time.
That's something Serum can't provide.
How Do The Synths Look?
No matter how much the functions are similar, the visual look of the two is staggeringly different.
Serum has visual feedback that can help you in forging your sound. Massive X users, unfortunately, don't have that option and have to do everything by ear.
The high-res display Serum offers you provides you to get all of your information visually. As silly as it may sound, this will help you understand your synths better and tweak the sounds to your liking.
With Massive X, you only get a rather small 2D wavetable in the center of the wave-table knobs. I think the creators missed a huge opportunity here.
Filters
Here's an area where even the original Massive plugin has the upper hand on the new version. For some reason, the developers decided to ax one of the 2 filters from the old version.
They opted for a selection of new, high-quality filters (Scanner, Monark, and Groian). But still, in my opinion, the old filters worked perfectly.
The visual representation of the Massive X filters is also something that lacks imagination. You only get the knobs, and that's it. In comparison, Serum has 2 distinct filter sections.
The main one has over 50 filter types, with superb real-time visual feedback. The second can be found found in the FX section of the plugin, without the real-time visualization.
WHAT ARE THE SIMILARITIES BETWEEN MASSIVE X AND SERUM?
Of course, the two synths have some similarities. They're two computer programs designed to make the same style of music. It's not like we're comparing apples and oranges here. So here are some of the things you can expect from both…
Synth Recency
Recency? That sounds a bit weird. It may very well, but hear me out.
Even though Serum is a bit older than Massive X, some may feel that 5 years in the music industry is an entire era – both of them still feel new.
The original Massive now sounds dated, especially since underground and mainstream producers have overused it.
Serum can still give you brand-new sounds with all of its customization options, allowing you to sound up-to-date.
Massive X came out in 2019. While it may seem like we were living in a different world before the pandemic, you have to admit, that's still as new as it can get.
Thanks to Serum's regular updates, both plugins are great if you want to make current-sounding music.
Presets
You don't have too much experience with programming your plugins? Don't worry; these 2 have got your back. Massive X and Serum both have huge libraries of presets in a variety of different genres. That makes both plugins really practical for the year-one producers among you.
Not only that, but both have hundreds of preset packs available to buy from places like Loopmasters. These packs are created by professional sound designers, producers, and artists.
Those people knew exactly what they were doing when they made the presets, so you know that they are practical to use, and they sound amazing.
Price
We keep on mentioning the price. I understand that most of you don't exactly have $200 lying around the room, nor can you hope to find a couple of spare $100 bills in your back pocket. In reality, most musicians start young.
Some still live with their parents. Even those who live on their own still have bills to pay and need to scrape by on a small budget.
That being said, the reality is: if you want to have quality-sounding tracks, you have to invest in them. Massive X will cost you $199 (£179) if you're using it for the first time. If you have the original version, Native Instruments will give you a $50 (£50) discount.
Serum is priced pretty similarly, costing just $10 less at $189 (£137) if you purchase it outright. There's a rent-to-own plan for just $9.99 per month (Through Splice) that isn't your typical rental plan; you will actually own the synth once the payment plan ends.
I do this, and it's fantastic value for money, especially if you are on a tight budget.
WHAT'S BETTER ABOUT MASSIVE X?
Five years isn't a short amount of time in music production. A lot can happen, especially if when we're talking about technology. That's why there are certain areas in which Massive X excels compared to Serum. Now, let's see what these areas are…
Modulation
When it comes to modulation, both of these are powerhouses. However, the new version of Massive gets the nod in this department. It has 9 LFO/Envelope options, independent of each other and completely customizable.
You can set each of these options to an exciter or a modulation envelope. The modulation options allow you to get the creative juices going and create some of the most creative sounds possible.
If versatility you're looking for, Massive X is a great option.
Effects
What's a synth engine without great effects. Luckily for all of us, both of these have fantastic VST effects, which allow you to manipulate the sound of your music any way you want. However, one of the two has a lot more effects to offer.
Massive X has a substantial amount of effects compared to its older counterpart. Even though Serum gives you more individual controls, I still have to give the nod to Massive X. It simply gives you way more options, which allows you to be precise with your sound creation.
BELOW YOU CAN COMPARE MASSIVE X AND SERUM FX
| | | |
| --- | --- | --- |
| Serum | Massive X (Insert FX) | Massive X (Stereo FX) |
| Hyper/Dimension | Anima | Dimension Expander |
| Distortion | Bit Crusher | Equalizer |
| Flanger | Utility | Flanger |
| Phaser | Folder | Nonlinear Lab |
| Chorus | Frequency Shifter | Phaser |
| Delay | Distortion | Quad Chorus |
| Compressor | Insert Oscillator | Equalizer |
| Reverb | PM Oscillator | Stereo Expander |
| EQ | Ring Modulator | Stereo Delay |
| Filter | Sample and Hold | Reverb |
| | Track Delay | |
CPU
No, I'm not saying that Serum is heavy on CPU. Not at all. However, I have to admit that Massive X is a lot quicker.
This is something that wasn't hard to predict. After all, Massive X is 5 years younger than Serum.
If you use both synths one after another, you'll instantly notice that Massive X's GUI is a lot quicker than the other.
Massive X simply eats up less RAM while it's working. However, give the Serum free trial a go if you're more interested in it to see how your system can handle the plugin.
MACROS
Finally, let's talk about the macros.
Massive X takes the top spot here with an impressive sixteen macros that can be assigned for automation. It also comes with the standard Pitch Bend, Modulation, and Aftertouch, as you'd expect.
Serum, on the other hand, has four macros that can be assigned to multiple parameters simultaneously. It also has the Matrix where macros really come into their own, which again, due to the visual aspect of Serum, really enables you to see what's going on with your modulation.
WHAT'S BETTER ABOUT SERUM?
Even though it's a few years older than Massive X, Serum has its advantages. Age is nothing but a number, right?
Here are a few areas in which Serum will give you significantly more than its newer counterpart, no matter how much experience you have…
Layout
We shouldn't judge a book by its cover.
Sorry, but that's exactly what I am doing here. And you know what? It really makes a difference. Serum's simple layout is not only easy on the eye, but it also has a practical use.
The layout makes it a lot easier to use.
Massive X to me looks pretty average and way too busy at the same time. The developers tried to cram too many things on a single page with switchable tabs.
If you want something good-looking that really gives you great visual feedback, go for Serum.
Oscillator Quality
Serum is renowned for its quality oscillators.
For some, the sound Serum gives may be too clean and pristine. It doesn't allow any imperfections in the waveforms, which, in the wrong hands, may make the music sound a bit robotic.
However, if you're not looking for an analog simulator and want something that sounds brand new and futuristic, Serum is what you want in your arsenal. If you want, you can also make your oscillators sound analog.
Wavetables
Those who remember when Serum was originally released may recall people online getting very excited over the custom wavetable. It gave users unlimited options; either importing 3rd-party wavetables or manually drawing them in.
This was groundbreaking stuff and really put Serum on the map when it came to sound design.
Unfortunately, Native Instruments missed a trick when releasing Massive X by not including customizable wavetables as you get with Serum.
Noise
Whilst both synths have great noise oscillators, Serum allows users to import their own audio files as noise. This opens up huge scope for sound design; in fact, there is no limit to the sounds you can create.
On the other hand, massive X has two noise oscillators along with some nice-sounding editable presets.
However, even though Serum only has one noise oscillator, using your own audio files that can be routed through the Matrix FX makes this a much stronger proposition.
WHO SHOULD GET MASSIVE X (AND WHY)?
By now, you get it: Massive X and Serum can help you achieve different things. But how do you choose which one is right for you? Sit down, think about the music you want to create.
Massive X's vocal style oscillators are perfect for creating growling bass lines. Do you want to make a tune that will rock a huge crowd with a hard synth bassline? Then Massive X could be for you.
Heck, the original Massive helped Skrillex fill out stadiums. Ok, you don't want to be the next Kenny G of EDM. I get it. But the point is, Massive X helps you to create big tunes.
This isn't just because of the rich tone of Massive X but also of the large selection of presets. If you want to create that "dirty bass sound," use Massive X for the best results.
Finally, if you upgrade from the original Massive, then Massive X could be a good shout, as you will already be familiar with how the synth works.
YOU SHOULD USE MASSIVE X IF:
You want your music to sound grandiose
You're looking for a distinctive analog tone
You want to get into harsher genres like Dubstep and Grime.
Your goal is to create "harder" festival music.
You want to have the most modulation options possible
WHO SHOULD GET SERUM (AND WHY)?
On the other hand, Serum is perfect for producers who want their bass lines clean, their pads spacious and lush, and softer music.
Now, don't get me wrong, Serum is versatile enough to create rich analog tones. However, it requires more work, concentration, and tweaks. By that, I mean you might have to go in a bit deeper and get more technical.
As mentioned earlier, one of the key features that put Serum on the map is the option to import custom wavetables or simply by drawing them by yourself. That gives you practically endless possibilities.
YOU SHOULD USE SERUM IF:
You want to achieve that lush, pristine sound
You wish to have a unique sound
You are looking for detailed effect options
You're just beginning, and you want something intuitive
You're good at creating wavetables all by yourse
BEST ALTERNATIVES TO MASSIVE X
Let me guess, you like Massive – like, a lot – but you're just starting. You're working on a tight budget. Your average bedroom producer doesn't have between $150 and $200 to spend on a VST, no matter how much they like.
Don't worry. I got you. Here are a couple of the low-cost Massive X alternatives you can find on the Internet…
The first VST I have here is great for first-timers. The sound design workflow is pretty simple, fast, and intuitive. That's because the interface is designed to suit musicians rather than studio engineers.
It's based on the concept of beat and pitch, in contrast to time and frequency. Instead of using mathematical equations to get the right sound, you get to use your intuition.
Arturia isn't exactly a widely-known name. However, Arturia's Pigments synth is starting to make rounds among EDM musicians around the Internet.
Unlike Massive X, Arturia Pigments does have visual feedback, which is helpful when you're working on your sound creation.
The design is beautiful to look at, and lastly, it does wavetable synthesis and sequencing automatically.
Last but surely not least, you have Vital VST.
This spectral warping synth is made for year-one producers that still have trouble getting accustomed to using new software.
With an animated preview, easy-to-follow workflow, and a handy drag-and-drop function, you can use it even if you've never seen music production software.
It comes with multiple modulation sources, MPE support, as well as an FX chain.
BEST ALTERNATIVES TO SERUM
So you don't fall into the first category? You like Serum more? You're just as broke as the guy who can't afford Massive X? That's totally fine. I got you too.
There are cheap and free options. Here are the best alternatives to Serum to save you a couple of research hours on various forums:
Although corporations are slowly but surely commercializing the Internet, there's still a large community of people who don't want to take your money. That why we have things like ZynAddSubFX.
This open-source synth software is capable of making countless instruments. You can re-create sounds from some of the expensive pieces of hardware and boost your sound significantly.
Next, you have something simpler.
Tunefish is a small virtual analog synth. The developers created Tunefish to fit into 10kb of compressed code. But don't let that fool you.
The sound quality can compete with commercial synths. Tunefish 4, the latest version of the synth, was developed as a smaller replacement for the previous version that gives the same power.
The multi-format VST was modeled after the legendary Yamaha DX7, which was extremely popular back in the 80s and 90s. If you watched TV or listened to the radio back in those days, you can easily recognize it.
It's now making a comeback, so if you want to try your hand at making some nostalgic synth wave, this is the plugin for you.
FINAL WORDS
Well, if you've made it this far, well done; hopefully, you have gone some way in deciding what synth to get. I use Serum all the time, and it's great.
I love the way it looks, its useability, and the hundreds of amazing preset packs available (The same can be said for Massive X preset packs), which are fantastic if you are just starting.
Being able to reverse engineer presets gives you a good insight into how Serum's wavetable synth works and how sounds are made.
The icing on the cake can get it on a monthly deal for under ten bucks!
Having said all that, I don't think you'd be disappointed with Massive X either, especially if you are coming from the original Massive.
And if neither of them floats your boat, there's plenty of other synths for you to take a look at.