Unfortunately, you can not directly transfer FL Studio from one computer to another. However, you can download FL Studio on multiple systems as long as you are the only user of that license. Once you have done this, you can also transfer any samples or programs to the other computer.
Transfering FL Studio
Trying to move all of your music production software to a different computer can be a time-consuming process in most cases. Luckily, DAW manufacturers usually include some easy-to-follow steps that allow your digital audio workstation to be installed on different devices easily.
In the case of FL Studio, you can't directly transfer the program files to another computer. Still, you can install it on multiple devices as long you have a legitimate FL Studio license.
This article will look at the quickest way to get FL Studio onto another computer and then answer some other questions relating to this topic.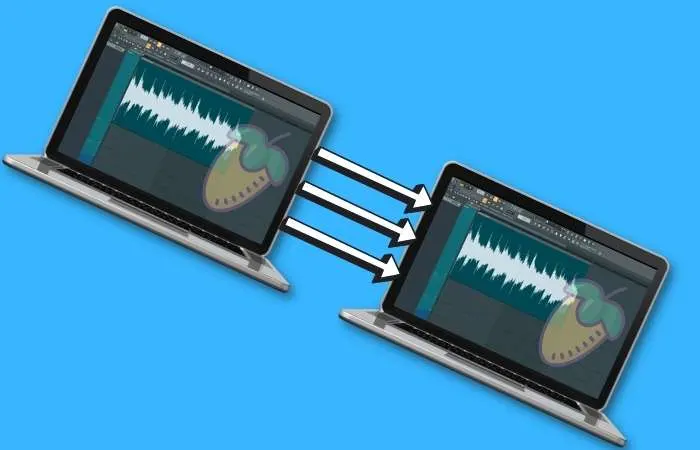 Why Can You Not Directly Transfer FL Studio To Another Computer?
Image-Line has made it so that you can only download FL Studio through the use of a license instead of being able to transfer the files from one system to another.
They have done this mainly to try and stop people from copying and giving out versions of FL Studio for free to other people.
So this is another reason why you will want to legitimately purchase FL Studio if you are thinking of getting the full version.
Click here to check out the latest version of FL Studio.
If you have illegitimately downloaded FL Studio, you will have to go through the whole process again on the new system you are trying to install the software.
How Can You Get FL Studio On Another Computer?
To start with, let's look at a quick method you can use to get FL Studio up and running on another computer, including all of your samples and VST plugins.
Step 1 – Installing FL Studio On Another Computer
First of all, you will want to log in to your image line account and make sure that you have your FL Studio license in your account, which can be found under the 'my licenses' tab in your account.
Once you have logged in and found your license, you can download the FL Studio demo, which can also be found on the image-line website (under the 'download' tab in the top hot bar).
You can register your license from within the FL Studio demo by navigating to 'help' in the top-left hot bar and clicking on 'about' at the bottom of the drop-down menu.
You will now have access to the most up-to-date full version of FL Studio on another computer, so now, let's look at how you can transfer over your samples and presets.
Step 2 – Copying Over Your Samples And Presets
Now that you have successfully downloaded FL Studio on your new computer, you can start the process of copying over any samples and presets that you have.
To do this step, you will either need an external drive or access to a large amount of cloud storage. Remote storage is essential here, as you will need to copy all of your samples and presets to this storage so that you can move them over from your old computer to the new one.
For example, if you are using an external hard drive, you would access the folders where you store your samples/presets. Then copy them over the connected hard drive. Once you have copied over all of these files, you can connect the external drive to the new computer.
Once you have connected the external hard drive to the new computer, you can copy the files onto the new device.
Click here for an excellent external hard drive.
Now that they are on the new device, you will need to go into the 'File Settings' under 'Options' in FL Studio. In there, you will be able to register all of your samples and presets for easy access within FL Studio.
Step 3 – Re-Installing Third-Party Plugins
In terms of plugins, there will be two possibilities. On the one hand, you may be able to simply copy the program over with your other files, and they will work on your other device. On the other hand, you may have to do a fresh re-install of the VST plugin.
As long as you have legally purchased the plugin, you should find that all you have to do is enter your information and products key to get access. In some cases, you may need to unregister the product on your old computer, as they may not allow two devices to use one license key.
Every plugin is different, so see which method works for you with each one. Sometimes you may find that all you have to do is re-enter your license key for the plugin to get it working again.
Once you have transferred or re-installed your desired plugins, you can search for them under 'Manage Plugins' in the options menu. You can search for them and ensure that they are functioning correctly.
Why Can Only One User Install FL Studio From A License?
Image-Line prevents FL Studio users from registering FL Studio on multiple devices to stop people from sharing their product licenses with other users for free. From their standpoint, this makes sense, as it maximizes their profits from their product.
FL Studio does allow a single user to register a single FL Studio license up to 3 times on different devices, as long as it is all done by the same user. So you could theoretically have one Fruity Loops Studio downloaded on three completely separate computers or laptops from only one license.
Related Questions
How Many Computers Can You Install FL Studio On?
Image-Line set a limit of 3 separate installs of FL Studio on different devices, as long as they are all used by the same user. They do not allow the same license key to enable FL Studio downloads by other users on different computers.
Doing this ensures that users cannot give their licenses to other users for free once they have used them, meaning that you have to purchase FL Studio yourself to be able to use it.
Do Other DAWs Let You Install on Multiple Computers?
Each DAW has a different answer to this question, so it is worth looking for your specific context.
For example, Ableton only lets users download once per license key, meaning that you cannot install multiple instances with only one license. On the other hand, Logic Pro allows its users to download the software as many times as they like as long as they use the same Apple ID every time.
Why Do Some Plugins Transfer Easier than Others?
Specific plugins require no additional signing in or verification from the user, especially those made by small companies. In these cases, you will be OK with simply copying over the plugin files to the new device, and they should work as expected.
Some plugin creators require users to verify their purchase upon copying over the files to a new computer as a safety measure to stop people from sharing their product for free.
Why Are My Presets Not Working After Transferring Them?
There may be various reasons that your presets are not working properly. Firstly you will want to check that the plugin you are using is up to date, as this typically causes presets to stop working.
You can also double-check that they are stored in the correct folder for that plugin and in the correct format (.fxp, for example).
Will My Project File Work Like Normal after Transferring FL Studio to A New Device?
As long as you have set everything up correctly and restored all of your plugins, samples, and presets as they were on your other device, then everything will work just as intended.
It can be a fairly time-consuming process to get everything working again, especially if you use a lot of different plugins. Still, as long as you work through each issue one at a time, you will get there eventually.
Do You Have to Pay for Each New Release of FL Studio?
Image-Line prides itself on the fact that its users get a lifetime of free updates once they purchase FL Studio. This means that you will never have to spend money on the DAW after the initial fee.
Can You Transfer FL Studio from A PC To A Mac?
As long as you follow the same steps as above, transferring between Mac and Windows will be just as easy as moving to a device using the same operating system. You may find that you have to re-install the Mac version of some of the plugins, but that's the only difference.
Final Words
Knowing how to transfer your FL Studio install over to another device is essential when moving over to another device. Luckily, Image-Line has made the process relatively easy for its users.
Hopefully, after reading this guide, you will be aware of all the different ways in which you can transfer your DAW installation over to another device, including your samples and presets.
Ultimately this will allow you to continue using FL Studio on a new device as if nothing has changed.
Click here if you want to change the look of FL Studio with our complete guide to FL Studio skins.