Using FL Skinner software, extract files, run the 'flskinner.exe' program, and use the 'Change FL Studio Path' option. Drag and drop downloaded skins into the open skins folder, and customize FL Studio look by changing the color of various elements. Also, set a custom background in FL Studio by going to the 'View' drop-down menu and selecting 'Background' and 'Set image wallpaper.
FL Studio Themes
Changing how FL Studio 20 looks can be a great way to customize your experience and fit your style. Using skins for FL is the most drastic way to change the look of the DAW.
You can also use the options offered within FL Studio to tailor the look to your liking.
Let's dive straight in!
How To Change FL Studio Skin
What You Will Need To Follow This Tutorial
important
The following article does not promote the use of FL Studio skins. Users should download and use these skins at their own risk.
How To Use FL Studio Skins
FL Skinner Download
First, you will want to ensure that you have downloaded the software 'FL Skinner,' which can be found in this Google Drive link.
FL Skinner skins provide the easiest way to manage and download a custom skin for Fruity Loops at the moment.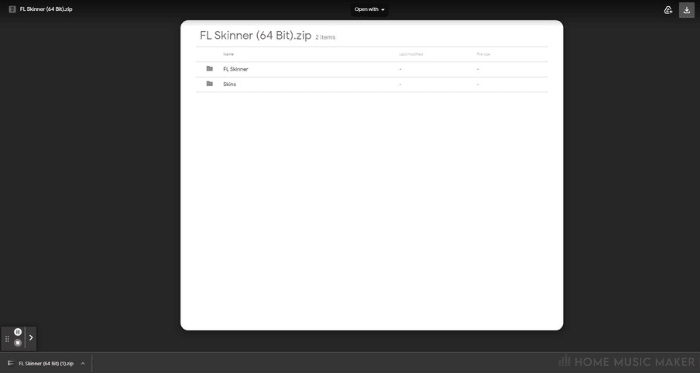 If you use the link provided, you can also download the 'Skins' folder, which will give you a range of different skins to change the look of your FL Studio.
Extract The Files
Once you have downloaded the FL Skinner, you can then extract the files somewhere where they are easily accessible. In my case, I dragged them onto my desktop.
For this part, you will need Winrar or a similar product.
Run 'flskinner.exe'
After extracting the files onto your computer, you can open the 'FL Skinner' folder and run the program titled 'flskinner.exe.'
Once selected, the skinner program will open, from which you can choose your desired skins.
FL Skinner should automatically apply skins to your FL Studio. You can try using the 'Change FL Studio Path' option if this doesn't work. Ensure that you have the correct Fruity Loops installation location selected there.
Adding The Extra Skins
If you have downloaded the extra skins found in the google drive link, you can also add these through FL Skinner.
Firstly, select the 'Open Skins Folder' option, which will open the location where you place the downloaded skins for use in FL Studio.
You can then drag and drop any downloaded skins into this folder, and they will then appear within FL Skinner.
If they do not appear, try restarting FL Skinner.
Open FL Studio
Now when you open FL Studio, you should have a brand new look!
If you want to change the skin at any point, simply open FL Skinner and select a different one, including an FL Studio Dark Skin.
Other Methods Of Customizing FL Studio
One of the easiest ways to change the look of your FL Studio is by changing the color of various elements.
Luckily this aspect of Fruity Loops has been made much better with the latest FL Studio version.
It is now possible to choose different colors for almost all aspects of the DAW.
FL Studio Playlist View
From within the playlist view, there are many ways to change the aesthetics to your tastes.
In most cases, you can right-click on the desired section and click on the color option. This will open a popup window allowing you to manipulate and save colors quickly.
Most notably, you can change the color of patterns, tracks, and samples within the playlist view.
These options are also great for color-organizing your work if your projects are larger in size.
FL Studio Background
Finally, we will look at how you can set your background in FL Studio.
To do this, go to the 'View' (1) drop-down menu from the top left of the DAW, and select 'Background' (2) and 'Set image wallpaper. (3)
Check out the latest versions of FL Studio below:
You can also get the All Plugins Edition – With audio recording, full playlist features, and ALL FL Studio native plugins (no VST plugin). This is a serious package!
For a Full FL Studio Comparison, Click the Link Below:
Compare FL Studio Editions Page:
Related Questions
Where Can You Find FL Studio Skins?
Sadly FL Skins are pretty tricky to come by now as Image-Line has been cracking down on their usage recently. Occasionally a google search may bring up some new skins; however, they are becoming increasingly rare.

Why Do People Want to Change Their FL Studio Skins?
Using FL Studio skin is an excellent way of changing the appearance of the DAW to your liking. You can select a skin that represents the colors and aesthetics that appeal to you and help make it feel like your FL Studio.
Do Skins Work with Older Versions of FL Studio?
There are ways to download skins for previous versions of FL Studio. However, this guide will not work if you use a version before FL Studio 20. If you are using an older version, there may be guides that can help you out.
Can You Change Skins in Ableton?
Ableton Live features a simpler method of changing skins for their DAW, requiring no external programs.

If you are using Ableton Live and want to change the theme, you can go to Preferences>Look/Feel>Themes and use the theme selector to select the one you want.
Will Changing FL Studio Skins Be Easier in Future Updates?
Users are hopeful that new customization features will be added in the next big FL Studio update, due in 2023.
Image-Line cracking down on promoting external FL Studio skins may also signify that they are working on a similar 'Official' version of this feature.
What Is the Benefit of Using FL Studio 20 Skins?
Skins are a great way to make FL Studio feel more like your personal DAW. It adds a level of customization that is not possible with the options offered in the box.

There is no other gain to your music production or anything of that nature, but it is simply a great way to tailor FL Studio to you.
Can You Remove Skins Once You Have Put Them On?
If you are using FL Skinner, you can select a different skin to change the look.

For those looking to remove skins entirely, you can remove the program from your computer, which will revert your FL Studio to its default theme.