Using Soundfonts in FL Studio can be done with either the Fruity Soundfont Player or with the sampler instrument DirectWave. Depending on the version of FL Studio you are using, you may need to use the 32-bit program or update to the most recent version.
FL Studio SoundFonts
Are you tired of using the same old sounds in your music? Are you looking to add some new and unique elements to your compositions?
SoundFonts may be the answer you're looking for. SoundFonts are collections of sampled sounds that can be used in digital audio workstations like FL Studio to create music.
This article will show you how to use SoundFonts in FL Studio and take your music production to the next level.
What Is The Fruity Soundfont Player?
When using SoundFonts in FL Studio, you might have come across the term "Fruity SoundFont Player". So what exactly is Fruity SoundFont Player?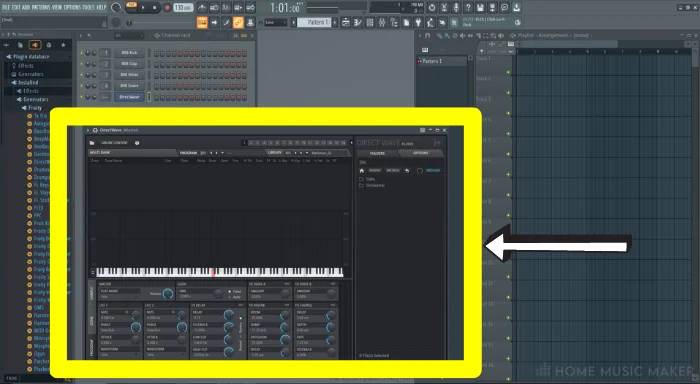 It's an additional plugin in FL Studio that allows you to load and play .SF2 files—aka SoundFonts—within the DAW. SoundFonts help add an extra layer of sonic quality and character to your productions. They contain sample-based audio clips with built-in effects.
To make use of this fantastic feature in FL Studio, all you need to do is install Fruity SoundFont Player. Then locate your SoundFont files on your computer, and drag and drop them into Fruity Soundfont Player.
It's pretty simple once you get the hang of it!
How To Add SoundFonts To FL Studio
Adding SoundFonts to FL Studio can be intimidating if you need to know what you're doing. Luckily, it's relatively easy to do!
A folder is located at "/Data/Patches/SoundFonts". The path is relative to the installation path of FL Studio.
You must copy and paste your SoundFonts into this folder, and they will show up in FL Studio in the browser.
How To Open SoundFonts In FL Studio
1. First, make sure you have downloaded the SoundFont you would like to use in your project. You can find plenty of free soundfonts online if you search around. Once you have found one, make sure that it is in the correct format for FL Studio – SF2 or SFZ files are best.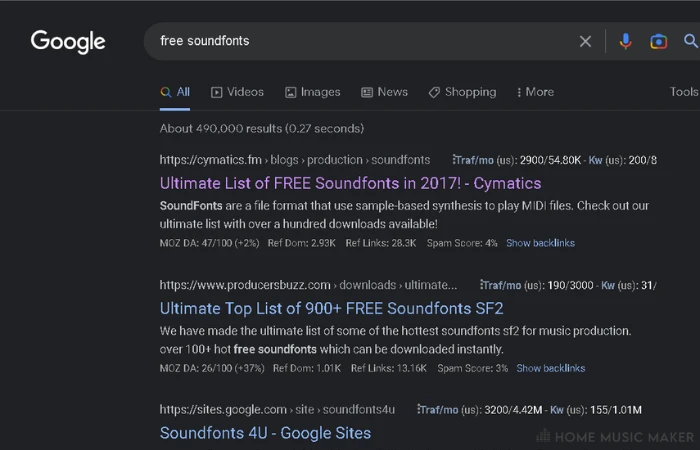 2. Open up FL Studio and navigate the Channels window (View > Channel rack). Select an empty channel (the small white box with a red line across). Then press the white plus symbol near the bottom of the channel rack.
This will bring up a window where you can choose which plugin you'd like to use in this channel. Select SoundFont Player from the list of options.
3. The SoundFont player plugin's new window containing controls should appear. At this point, click on 'Load' in the lower left corner. Then select your chosen SoundFont from wherever it is saved on your computer. It should now be ready for use within FL Studio!
And there we have it – adding soundfonts to FL Studio doesn't need to be complicated! If you're ever stuck trying new sounds, give this method a try, and you'll be producing great music in no time!
How To Use Soundfonts In FL Studio 20
Using soundfonts in FL Studio 20 is a little different since, in version 20, Image Line dropped 64-bit support for the fruity SoundFont player.
The 32-bit version of FL Studio 20 can still run the fruity SoundFont player. So If you're stuck on version 20 and want to use the fruity SoundFont player, this is your only option.
Other than that, the process is identical to the method explained above.
When you buy FL Studio, you get free updates for life. And that 64-bit support for the SoundFont player was fixed in a later update.
This means upgrading to the most recent version should fix any problems you're having with soundfonts on version 20
How To Use Soundfont Player In 64 Bit FL Studio?
If you use the most recent version, you are in luck. All you need to do is open the SoundFont player, as we explained above.
But if you are using FL Studio version 20, it will be a little more complicated.
Version 20 only supported the SoundFont player within the 32-bit version. Your options are to use the 32-bit version of fl studio. Or to open the 32-bit fl studio as a plugin from inside the 64-bit version.
When you installed FL Studio, it should have installed both 64-bit and 32-bit VST plugin versions into your system vst folder (either "program files x86/vst plugins" or "program files x86/Steinberg/vst plugins")
You can load these plugins from within the standalone version of fl studio.
If you don't like either of these solutions, you can always use the Direct Wave instrument to load soundfonts. But be prepared because not all soundfonts will work with Direct Wave.
How To Use SF2 Files In FL Studio
Thanks to an Instrument called Fruity Soundfont Player (built-in with FL Studio) loading .SF2 files are pretty straightforward.
From the channel rack (you can open the channel rack from "view>channel rack" on the top toolbar), first press the white plus Icon near the bottom.
This will open a menu allowing you to select an instrument for the new channel.
Click Soundfont Player in the "misc" sub-menu and wait for the instrument interface to load.
Then click the folder icon near the top of the instrument window and direct it to the .sf2 file you want to open.
Suppose the SoundFont is in the default SoundFont folder and is visible within FL Studio's browser. You can right-click the SoundFont and select load to new channel from the context menu.
How To Use Soundfonts In FL Studio Mobile
Soundfonts can not be directly opened in fl studio mobile. However, there is a workaround.
FL Studio comes with a sampler called Direct Wave which can load sample libraries, including soundfonts.
Another feature of Direct Wave is that it lets you export Direct Wave instruments, similar to how you can make Kontakt instruments in Kontakt.
These Direct Wave instruments can then be loaded from within FL Studio Mobile.
The Best Free Soundfonts
You've got plenty of options for finding the best free soundfonts for FL Studio. Whether you're making rap, hip-hop, R&B, or something else entirely, soundfonts provide access to sounds and instruments that you wouldn't otherwise have access to.
Here are our top picks for the best free soundfonts for FL Studio:
1. Bolder Sounds Gospel Keys 200 – A tremendous gospel-inspired collection featuring electric pianos and organs. It's perfect for creating uplifting melodies and soulful rhythms.
2. Xtant Sound Design Bass & Drums – With plenty of sub basses and thumping kick drums, this collection will add a heavy groove to any track.
3. Acoustica Orchestra Hits Collection – This massive collection has over 800 patches for orchestra instruments, including violins, trumpets, and more! Get ready to bring your compositions to life with orchestral richness!
4. Planet Stringz String Machine – Bring a classic vintage sound into your productions with this pack of string samples recorded through analog equipment like tape machines and outboard gear.
5. Toumaz Fender Rhodes Mark 1 – Add an old-school flair to your recordings with this unique selection of Fender Rhodes samples. These feature classic analog warmth and depth of tone!
No matter what genre of music you're producing, these free soundfonts will add much-needed character and vibrancy to your tracks! Give these freebies a spin on your next production session – we know you won't be disappointed!
Related Questions
Where Are SoundFonts Stored In FL Studio?
In FL Studio, soundfonts are stored in the "Soundfonts" folder located in the "Data" folder, which is found in the main FL Studio installation folder. The default location for this folder is:
Windows: C:\Program Files (x86)\Image-Line\FL Studio XX\Data
macOS: Macintosh HD > Users > [username] > Library > Application Support > Image-Line > FL Studio XX > Data
Where XX is the version of FL Studio installed.
Once you access the soundfonts folder, you can add, delete or manage your soundfonts. These soundfonts will be available in the SoundFont player channel in the channel rack of FL Studio, and you can use them in your projects.
Additionally, you can create custom folders to organize your soundfonts and add them in the settings of the Soundfont player channel in the channel rack for easy access.
It's important to note that if you have trouble finding the SoundFonts folder or have installed FL Studio in a different location, you can also check the configuration settings in FL Studio to locate the folder.
How Does A SoundFont Work?
A SoundFont is a collection of digital audio samples that can be loaded into a software synthesizer, like the one in FL Studio, to produce realistic, high-quality sounds.
Think of it as a digital instrument library you can access from your computer. These soundfonts can include various instruments, from pianos and guitars to drums and sound effects.
It's like having a whole orchestra at your fingertips! Each SoundFont contains recorded samples from real instruments, including different notes, articulations, and dynamic levels.
These samples are then mapped to specific keys on a keyboard, so when you play a note, it triggers the corresponding sample from the SoundFont.
Where Can You Get Free SoundFonts?
Other than what is mentioned above, you can also find some at…
FLStudioMusic: This website is a great place to start. It offers various free soundfonts for multiple instruments, drums, and sound effects. You'll be sure to find something that catches your ear.
HammerSound: This website is a treasure trove of free soundfonts, including orchestral, keyboard, and percussion instruments. It's a one-stop shop for all your SoundFont needs.
What Is The Best SoundFont Player?
Which one is "best" is hard to say. But some popular options include Polyphone and Sforzando. They both support SFZ, SF2, and SF3 SoundFont formats and are free to download.
Does FL Studio Support SoundFonts?
Yes, you can load them with DirectWave, a sampler that comes stock with FL Studio. You can also use the Fruity Soundfont Player.