There are quite a few well-known producers that use Ableton these days. Because of the incredible features within Ableton, you can use it to produce anything from ambient music to EDM. The most notable producers that use the DAW are Skrillex, Flume, and Deadmau5.
Ableton Users
Ableton is a powerful DAW (Digital Audio Workstation) with tools and features that are great for producing in genres such as rap, EDM, pop, etc.
It might surprise you just how many professional producers use Ableton!
This article will look at famous music producers using Ableton in 2023.
What Producers Use Ableton?
Let's look at my top 25 producers/artists who use Ableton. Keep in mind that even more producers use Ableton than mentioned here. These are my cream of the crop…
Trent Reznor
Odesza
Diplo
Excision
Danz CM
Deadmau5
Imagine Dragons
Martin Garrix
Daft Punk
David Guetta
Marshmello
Flying Lotus
Krewella
Skrillex
Jean-Michel Jarre
Armin Van Buuren
Actress
Kaskade
Bassnectar
Tame Impala
Flume
Madeon
DJ Snake
Knife Party
King Gizzard and the Lizard Wizard
As you can see, Ableton is huge among electronic music producers and producers of many other genres.
It's overwhelming how many legendary producers and artists are Ableton users! This proves it is a professional DAW with high-quality music production tools, instruments, and sounds built in.
Which Rap Producers Use Ableton?
Here are some famous rap producers who use Ableton:
Mike Shinoda
Mike Shinoda is a rapper, singer, and music producer most known for his work with the legendary nu-metal band, 'Linkin Park.' Although Linkin Park is no more, Shinoda is still a full-time musician/producer who uses Ableton to push his craft to the next level.
T-Minus
T-Minus, also known as Tyler Mathew Carl Williams, is a legendary record producer from Canada. He has worked with top artists such as Nicki Minaj, Eminem, Kendrick Lamar, ASAP Rocky, and Drake, to name a few. He uses Ableton as a part of his toolkit.
Timbaland
Timbaland is debatably one of the top record producers of all time and an Ableton user. Timbaland, also known as Timothy Zachery Mosley, has worked with many artists, such as Ginuwine, Missy Elliot, Jay-Z, Nas, Ludacris, and many more.
Kenny Beats
Kenny Beats, whose full name is Kenneth Charles Blume, is another famous record producer who uses Ableton. Kenny has worked with some huge names like Freddie Gibbs, Vince Staples, Ski Mask the Slump God, Ed Sheeran, Gucci Mane, and DaBaby, to name a few.
Mike Dean
Mike Dean is another huge record producer known for his work with Travis Scott, Kanye West, Kid Cudi, Drake, The Weeknd, XXXTentacion, Jay-Z, etc. Mike Dean is an avid Ableton user.
Swizz Beats
Swizz Beats, a.k.a. Kasseem Daoud Dean, is our last Ableton user that I want to mention today. His career has involved working with stars such as Busta Rhymes, Jay-Z, Mariah Carey, T.I., Ludacris, Alicia Keys, and many more.
There are plenty more rap producers who use Ableton. I wanted to mention some of the more prominent names.
Do Professionals Use Ableton?
Yes! As you can see from this article, many professional music producers and artists use Ableton.
This is no surprise, as it is a powerful digital audio workstation with incredible features, tools, sounds, instruments, and plugins.
Reasons To Use Ableton Live For Electronic Music Production
There are plenty of reasons to use Ableton Live for electronic music production. Let's take a look:
Incredible virtual instruments, samples, and plugins
Uncomparable flexibility that adapts to any workflow
Great features that focus on electronic music production
Highly functional audio and MIDI capabilities
User-friendly layout and interface
Although Ableton is great for producing music of many different genres, it is beneficial for creating electronic music.
Are you considering investing in Ableton but are not happy with the price? Take a look at this other article to help you decide.
Ableton is well known as both software for music creation and performance. However, it's not the only tool in the game to use for live performance. For more, please read our article on Ableton Live versus Mainstage.
What DAW Do Most Producers Use?
Every producer will have their DAW of choice, so it is hard to pick one digital audio workstation that most producers use.
For example, many top producers have made hits using Pro Tools, Ableton, Logic Pro, and FL Studio. These four DAWs are very commonly used when it comes to producing in genres such as rap, electronic, pop, experimental, etc.
If I were an aspiring music producer looking into investing in my first DAW, I would start by checking out those four digital audio workstations.
One of my favorite aspects of Ableton is easily transferring tracks and more between projects. To learn this, read our article on copying between Ableton projects.
Where Do Pro Producers Get Their Sounds?
Professional producers have plenty of sources for acquiring high-quality sounds to use in their tracks. Here are some of the most common places for a music producer to find sounds and instruments:
Stock Sounds And Instruments Within Your DAW
Remember to consider the resources that come free within your DAW! Some DAWs have great stock samples and instruments.
Third-Party Sounds And Instruments From High-Quality Developers
Another place to find incredible sounds and instruments is third-party sample library developers. My favorite sources for paid sounds, instruments, or sample libraries are Spitfire Audio, Native Instruments, Output, and Splice.
Be careful when investing in sounds that you only purchase high-quality tools and resources.
Designing Synth Patches Using Either Hardware Or Software Synths
One way to create unique sounds for your music is to design your synth patches using either hardware or software synths. This can be hard at first, but eventually, you will be more than happy with some of the patches you can create.
Recording Unique Sounds
Recording your own samples is another excellent way of creating sounds for your track. Get creative and sample anything from birds chirping to kitchen utensils; you never know what you will be able to make these sounds afterward.
Recording Real Instruments
Feel free to do things the old-fashioned way and record performances of actual instruments by musicians on your tracks. If you can't play any instruments, chances are, you have friends who can.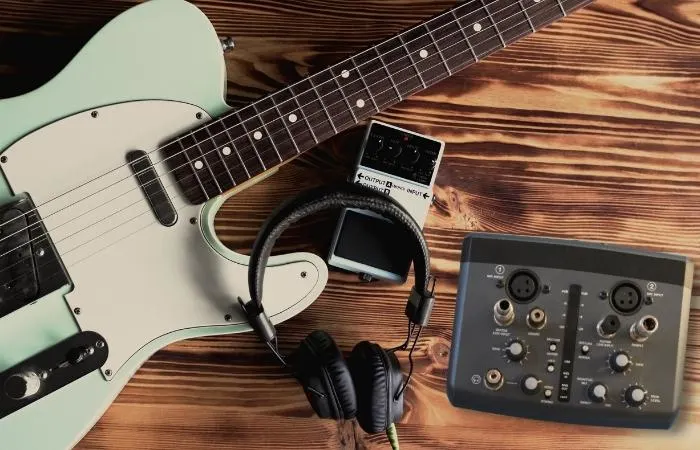 As you can see, there are tons of different places to find incredible sounds to use in your music.
Related Questions
Is Ableton The Best DAW For Producing Electronic Music?
Based on the number of top electronic music producers that use Ableton, it is the best DAW for producing electronic music.
Use other DAWs for electronic music production: Logic Pro, FL Studio, Studio One, Cubase, etc.
Everyone has their DAW of choice, but you can't argue that Ableton isn't great for electronic music production.
Does Ableton Come With A Collection Of Virtual Instruments?
Yes, Ableton does come with a virtual instrument collection.
Remember, the amount and type of virtual instruments that come with Ableton will depend on the version you purchase.
Does Ableton Come With Audio Samples?
Yes, Ableton comes with an impressive collection of high-quality audio samples.
Remember that the different versions of Ableton will come with various audio sample collections.
What Are The Three Most Popular DAWs In 2023?
If I had to choose three top DAWs in 2023, I would go with Logic Pro, Ableton, and Pro Tools.
This is opinion based, but because of how many top artists, producers, and engineers rely on these DAWs daily, they are undeniably some of the leading music production software.
Can You Use Third-Party Plugins In Ableton?
Yes, Ableton does allow you to use third-party plugins.
Remember that some Ableton users have complained about compatibility issues when using third-party plugins or instruments.