Ableton Live Skins change the look of Ableton, including the workspace, built-in plugins, instruments, and sample display. These are downloaded or created, then placed in the themes folder within the application, and become available to select from the Preferences window.
Ableton Themes
Ableton comes with five default themes. There are thousands of options available for you to download that will alter the color of Ableton's display, even down to the samples (though they don't make them sound better!)
They help keep Ableton fresh and change up the grey-scale metallic themes it comes with.
These only change Ableton components, so your third-party plugins will remain unaffected.
I've made this guide to show you what they are, how where to find them, how to install them, and how to customize them even further.
How To Install Ableton Themes
Ableton theme files are called .ask files. Once downloaded, they need to be placed in the Themes folder of your Ableton application.
For macOS, open Finder and select Applications from the left panel. Right-click on Ableton and select 'Show Package Contents' (note that double-clicking will launch the application). Go through the folders Content>App Resources>Themes and drop the file in the Themes folder.
For Windows, find the program folder in C:\ProgramData. Go through Ableton>[Ableton Version you're using]>Resources>Themes and place the file in this folder.
Your location may vary depending on where you have Ableton installed.
You can find this via the desktop shortcut if you need help determining where Ableton is installed!
Mac
Right-click the application icon in the Dock, go to More Options, then "Open in Finder" will open the Finder window where it is installed.
Windows
Right-click the application icon in TaskBar, then right-click Ableton and select Properties. The application will be saved where the location tells you.
Before fully diving in, do you even have Ableton? Maybe you're confused about which DAW to get. Check out our article on Studio One versus Ableton.
How To Change Ableton Themes
Once your .ask file is in the themes folder, open Ableton. The theme file will show under the LookFeel tab within Ableton Preferences (CTRL+ or CMD+). Selecting a different theme in this list will immediately switch Ableton to the new theme, giving instant feedback on its look and feel.
You don't need to reload Ableton for new skins to appear in the list when you add the file to the folder. However, you will need to close and reopen the Preferences window.
Best Place To Download Ableton Themes
Finding themes for Ableton Live is an easy Google search. There are quality offerings when searching "Ableton themes" or "Ableton live skin."
I love the selection on Live Themes because they offer thousands of different skins that are available as a free download with no login!
Creating an account with Live Themes gives you access to their Remix tool for creating a custom theme and editing an existing one that you can save to your account. You also get to save your favorite themes to your account and can publish your created themes to their site!
If Ableton's dark mode isn't dark enough for you, or you're seeking a higher contrast color scheme to help with accessibility, this site has enough options. Browsing for a new theme is easy with color, brightness, and user rating filters.
Top Free Ableton Themes
There are plenty of options out there to choose from. I love the Fungus theme from Sonic Bloom as an alternative to the light default skin that comes with the Ableton Live Pack.
Dracula's theme is my favorite from this list. It looks sleek in its dark skin with soft pink and purple highlights.
Can You Create Your Own Ableton Themes?
Totally! There are good tools online to create your own, edit a pre-existing theme, or make your own in the .ask file.
LiveThemes.co allows you to remix any theme with their online editor. Find your theme in the browse section, and click on Remix in the list of options on the left. You will need to set up an account on the site.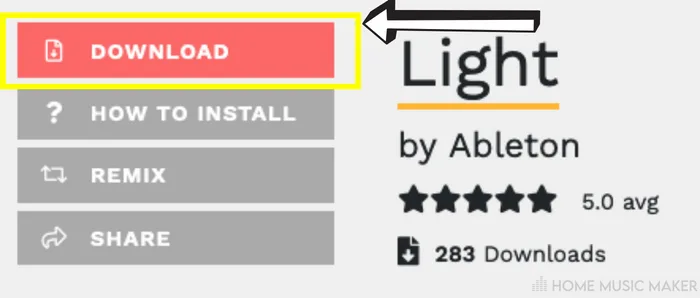 Once you're in the editor, you will see the previously selected skin. You can also start from a default skin or import one you have saved locally. You can click on the part of Ableton you want to change and alter the color with the tool on the left.
If you're a producer with some coding knowledge, try using a text editor to adjust the .ask file! You can open the file with TextEdit on macOS and Notepad on Windows. This is an XML file, so you can alter specific values using HEX code or RGB coordinates.
For example, the control for MidiNoteMaxVelocity is printed below. Changing the numbers will tell Ableton to display that color when a midi note is at its maximum velocity.
<MidiNoteMaxVelocity>
<R Value= "0"/>
<G Value= "167"/>
<B Value= "179"/>
<Alpha Value= "255"/>
</MidiNoteMaxVelocity>
Customizing your theme this way will take trial and error. You could end up with a bright pink synth track that clashes with your yellow vocal take!

Pro Tip
Some themes you download could be designed for version 9 or 10, so there may be new features in 11 that aren't covered by that skin in the latest version. Have no fear, though! You can upload the theme file to Live Theme's editor and update the missing features.
Are There Other Ways You Can Change How Ableton Looks?
The Ableton Live Pack has built-in color themes that you can change without adding files to the skins folder. If that is enough variety for you, don't fix what isn't broken!
You can also alter the track and label colors within Ableton by right-clicking the track and selecting the color option you want. To have the clips in the track use the same color, select Assign Track Color to Clips in the same drop-down on the track.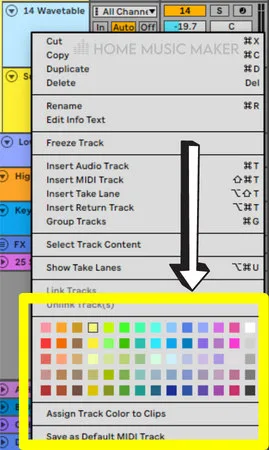 These themes don't change any third-party plugins. This means you will have to rely on them to have included color preferences.
You can alter Ableton's layout too. You can hide the Info View, Browser, and Detail view by toggling the triangles in the corner nearest the section on the screen. And there is a switch between the Session and Arrangement View we've written about.
Related Questions
Are Ableton Themes And Skins The Same Thing?
The short answer is yes. Ableton Live Skin and Theme can be used interchangeably for the customization files that offer alternatives to Ableton's default color themes.
Where Do You Put Ableton Skins?
Ableton skins are placed in the application folder. These are Ableton>Content>App Resources>Themes on macOS and C:\ProgramData\Ableton\Live Version\Resources\Themes on Windows.
Can You Have Multiple Themes In Ableton?
You can install multiple themes in Ableton, but only one can be used simultaneously.
How Do You Enable Themes?
As long as the theme is in the correct folder, as stated in this article, you do not need to enable themes in Ableton. The themes in the folder will show in the drop-down themes menu in preferences.
How Do You Unzip A Theme?
The same way that you unzip files in general.
On Windows, you can right-click the zipped folder, then click "Extract All." This will bring up an extraction window, which you can easily follow and unzip the folder.
On Mac, you double-click the zipped folder. The contents of this folder will appear in an unzipped folder, so you can now use them as you please.