The zoom function is a necessity for working efficiently in FL Studio. The most straightforward method to zoom in on your piano roll is to hold CTRL+Scroll (CMD+Scroll – MAC) with the mouse wheel. This is interchangeable with the playlist view as well.
Zoom Zoom!
Time and time again, hotkeys and keyboard shortcuts save time, hassle, and, most importantly, your workflow!
It can be a real struggle navigating your playlist and piano roll if your screen is small (or large, for that matter). The notes, audio clips, or sample patterns are either too large or too small to work with.
And no, you don't need to adjust your screen resolution either!
Read on, and I will explain the best methods for zooming in on different screen views to help you be as productive as possible.
Zooming In & Out On The Piano Roll
Method 1 – Utilize Your Mouse
Step 1 – Input Piano Notes
Open up the piano roll with a VST, such as FL Keys selected, using either the above icon or the Hot Key (F7).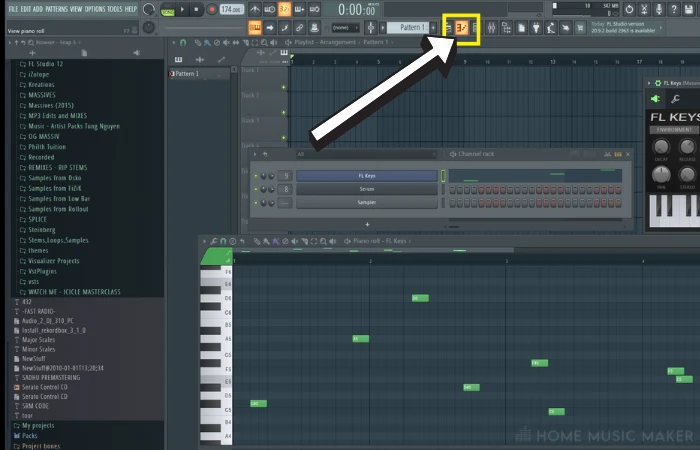 Left-click in some notes.
Step 2 – Mouse Shortcut
Hold CTRL + Scroll up or down on your mouse wheel in the Piano Roll window. (CMD + Scroll for MAC).
Note: Wherever your mouse cursor sits on your screen is where the function will start from, so move it around for different notes, this will zoom both in and out of the selected area.
Method 2 – Keyboard
Step 1 – Repeat Step 1 above
Step 2 – Shortcut Keys
Using your keyboard in the Piano roll, hit SHIFT+1,2,3 or 4 to zoom to increasing depths on your notes.
Above is each end of the zoom spectrum covered.
Zooming In & Out On The Playlist
Note: Both Method 1 and Method 2 also apply with the playlist view, but with some extra options:
Time bar
Hover your mouse anywhere along the time bar shown above and roll your mouse wheel to zoom in on the playlist at that point. The same applies to zoom out; you don't need to hold any other keys!
Clip Adjuster (Vertical Zoom)
Both the Piano Roll and Playlist have a small icon in the top right (see above image) that can adjust your zoom.
Bear in mind this adjusts the vertical zoom only.
Hover your mouse cursor over the square and Left-click + drag up or down to increase and decrease your zoom.
Clip Adjuster (Horizontal Zoom)
Above your time bar, you will see a grey highlighted section. This represents your whole track and can be used to adjust the horizontal zoom.
Hover your mouse over the end of the selection, then left-click + drag to zoom horizontally.
How To Use The Zoom Tool In FL Studio
There is a dedicated Zoom Tool located in your toolbar. Look for the magnifying glass icon and left-click to use it—hotkey (Z, or SHIFT+Z).
Using the zoom tool, left-click + drag over your desired playlist section to increase the zoom.
Note that the smaller size square you draw with this function, the more zoomed in the field of view will be.
How To Reset Zoom In The Playlist?
Aside from the manual adjustment using your mouse or keyboard, this is achievable with the zoom toggle switch in your toolbar.
Following your tool selection, right-click anywhere in your playlist view. The window will resize to show your entire track. You can also toggle back and forth to the previous view by clicking again.
How To Zoom In And Out In Edison
The ever-popular sample editor Edison is so frequently used in FL Studio that it pays to know how to utilize zoom functions there.
Left-click + Drag left or right at the end of the selection square (when the two arrows appear on your cursor) to zoom in and out of the audio clip.
Left-click or Scroll button Click + Drag – move the highlighted view section to various parts of the selected sample.
Scrolling the wheel up or down on the main audio in the sample window will also zoom in and out for you.
Many of these methods are interchangeable, so it comes down to what works best for you.
Related Questions
How Do I Change The GUI Zoom Settings In FL Studio?
The Graphical User Interface (GUI) is highly adjustable and customizable. From window scaling to transparent windows and popups to animations and all-around zoom of VST, plugins, and window sizing.
I personally leave mine set at the default of "system" and "main" for the rest.
This is, of course, up to you, but take note of your current settings, as the changes could be drastic!
What Does CTRL + ALT + C Do In FL Studio?
A little-known trick is this one! Using these keys will create a duplicate pattern based on the one you're currently using. Handy if you've written notes and drum patterns in the same one but want to switch them out!
How Do You Change Views In FL Studio?
Go to your drop-down "View." Here are various options for changing the view and outlook of FL Studio. Whether you want to collapse windows, change the toggle button layout, arrange each window to a new style or even change the FL Studio background!
Is It Ever Necessary To Fully Zoom In In FL Studio?
Most times, you can manage your workflow without having to zoom in the maximum percentage. However, I have sometimes found it helpful to make minute adjustments to audio clips on the playlist.
Want to learn more? Check out this quick guide on using snap-to-grid in FL Studio.