Saving files in FL Studio Demo or Trial is quick and easy. Choose a File and then Save As. Re-opening the files with the Demo isn't, however, possible. That's ok because there are workarounds like exporting the stems from the song, creating a new project, and then dropping the stems in the new project.
Saving Projects In FL Studio Demo
It's entirely possible to create rich, full-featured songs using the FL Studio Trial. All of the plugins, VSTs, effects, and instruments are functional. This is awesome for people wanting to evaluate the DAW (digital audio workstation) and determine if it will suit their music production needs.
One limitation is that there is no ability to re-open the files you've created.
This can be a bit of a problem. Still, there are some ways to continue working on songs across multiple sessions of opening and closing the FL Studio Trial.
There are other options available such as saving MIDI, that we'll explore in this article.
What You Will Need to Follow This Tutorial
FL Studio Trial mode(version 12 or higher)
Computer with peripherals to control the FL Studio User Interface
The Problem With The FL Studio Demo Version
Use the standard approach for creating a new FL Studio project (flp file) using File and then New.
Select from the options available. An empty project is fine. For now, just add something to the project. A simple four-bar loop of a single synth note is fine-just something to work with.
Once you have something in the file, go ahead and save it.
Next close FL Studio. Once it's closed, go ahead and double-click the project file you just saved. Or open FL Studio and then select File and then Open.
Navigate to the file you saved and open it. You should see the issue right away. You can't open the file with the FL Studio Trial!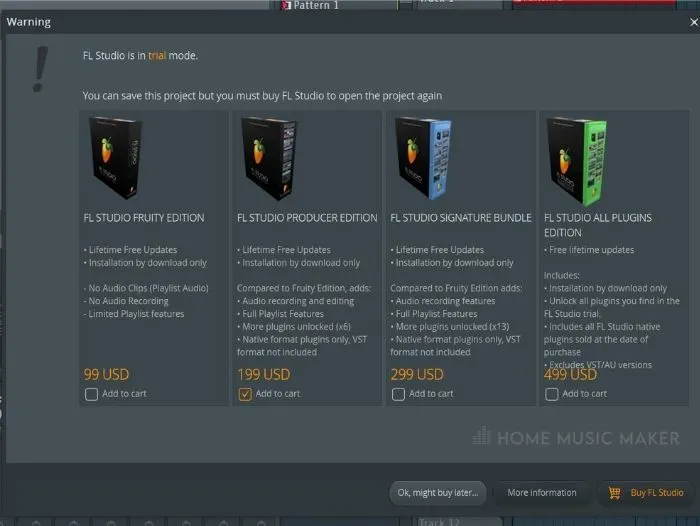 Export Stems As A Workaround
Having the ability to re-open projects is a bummer, but not all is lost!
There are workarounds to the issue at hand. This is a great save, but you will lose the ability to edit the notes of the MIDI patterns.
Part of the workaround is to ensure that before you export the stems and close the project, make sure, like really sure, you're happy with the way things sound.
What you can do is export every mixer track to a stem.
From the File menu in FL Studio select Export and then Wave file.
Then make sure the option to Split mixer tracks is selected. This will render each mixer track from the FL Studio project to a .WAV file.
Keep in mind each element should be routed to its own mixer track in your project. This is good practice but will really make a difference when you're exporting stems.
Click here for our full guide on exporting stems in FL Studio.
While it's not ideal to lose the ability to edit, we can still work on the arrangement, mixing, and mastering. It's not the most ideal solution, but it's certainly a solution.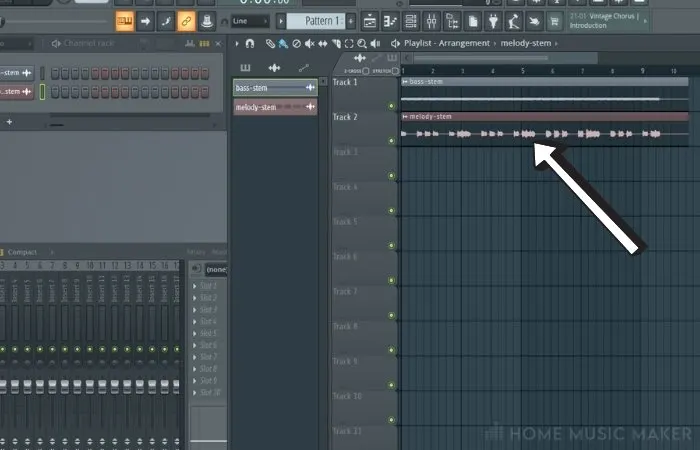 Save A MIDI File
Another workaround is to save the MIDI patterns we created in the piano roll from the song itself. In addition, if you save whatever changes you made in whatever synth you used for that pattern, you can essentially recreate that piece of the project.
If you pay close attention to what you're doing and save all of the changes made to the synths, you could almost recreate a project without too much hassle.
This, of course, is relative to the complexity of the song you create. A highly sophisticated track with hundreds of custom synth designs and effects could take nearly as long to recreate as it did to create in the first place.
This option might not be the best for an entire project. If there are essential tracks that you want to continue editing across multiple sessions using FL Studio Trial, then saving MIDI might be a good option.
Using the menu in the Piano Roll, save the pattern as a .midi file.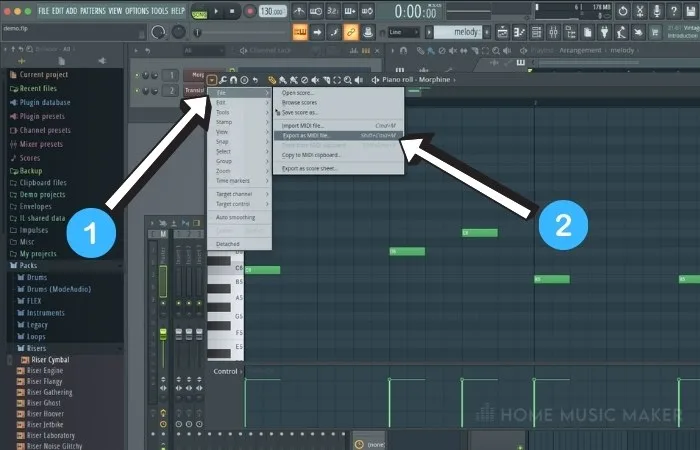 Keep in mind you'll need to work with one plugin at a time when you import the MIDI into a new project. This can be a time-consuming process, but you can still edit the notes in each MIDI pattern.
To use the MIDI pattern in another project, simply create a new project.
Then create a new pattern in the Playlist. Using the menu in the Piano Roll for the pattern, select the option to import the .midi file.
Don't forget you'll need to map this pattern to the same synth you used in the original project.
Buying FL Studio
This one almost goes without saying, but purchasing a valid FL Studio license is really the best option out of all of these. There are tiered levels that you can buy into FL Studio. This provides some financial flexibility for people just getting started.
Each version of FL Studio has different configurations of plugins and functionality available.
The Producer version is the best for beginners if it's within their budget. Having the complete package is really the best solution though.
I started with the FL Studio Producer edition and ended up buying the entire package later.
Using A Cracked Version Of FL Studio
Countless people pirate FL Studio, and I understand why. It isn't exactly cheap.
The main issue with using pirated software is stability. The cracked versions you'll find aren't that stable. And they have other problems and can often compromise your system to hackers.
I'd steer clear myself and save the money for FL Studio. It's not worth risking getting some crazy virus that fries your motherboard, or worse. Then you're out an entire computer!
Below you can check out the latest FL Studio offerings.
Image
Product
Features
Price

Signature

Audio recording
Full playlist features
13 additional native plugins

Latest Price

Producer

Audio recording
Full playlist features
6 additional native plugins

Latest Price

Fruity

Limited playlist features

Latest Price
Also available is the All Plugins Edition – With audio recording, full playlist features, and ALL FL Studio native plugins (no VST plugin). This is a serious package!
Differences mainly come down to features and which VST plugin options you get.
You will also receive a lifetime FREE update for FL Studio once you purchase it, which can only be a good thing!
Related Questions
Does FL Studio Have a Demo Version?
Yes, FL Studio provides a fully functional version of their software available as a free download. There are some limitations with the Demo. Projects can't be re-opened across multiple FL Studio sessions. Some of the plugins will mute themselves after a certain amount of time.
Creating rich, professionally sounding music with the FL Studio Trial is entirely possible. You have to do it in one session, though.
How Long Does the FL Studio Trial Version Last?
The FL Studio Trial doesn't have a time limit on it. You can use the Trial for as long as you wish. The main limitation surrounding the FL Studio Trial is having the ability to re-open your projects. The Trial won't open files that you've previously created.
Does the FL Studio Demo Save My Work?
Yes, the FL Studio Trial does have the ability to save your work. The main limitation is that you can't re-open the files later. Thankfully there are some ways to work around this, such as exporting stems and saving MIDI.
How Much Does FL Studio Cost?
Image-Line, the creators of FL Studio, offers an assortment of options to purchase their software. The best way to view the options is on their website. They provide a great product comparison page.
Why Can't I Open My FL Studio Project?
There is an excellent chance you're using the FL Studio Trial. If this is the case, you'll need to upgrade to a paid version to re-open your previously saved projects.
Can I Export Stems From a Project Created With FL Studio Trial?
Yes, this is the preferred option for working with the FL Studio Trial. You can export all of the mixer tracks for a song. Then create a new project and import or drag the stems into it. This is a decent way to work on a song across multiple sessions with FL Studio Trial.
Still, undecided? Click here to read our guide on Is FL Studio Worth It?