FL Studio is up there with the very best DAWs you can purchase in today's market. It features a wide variety of functionality that allows users to lay down and expand upon their creative ideas quickly. In-depth customization also allows FL Studio to be configured just to your liking, making it amazingly versatile for everyone's needs.
Should You Get FL Studio?
Trying to find the right DAW (Digital Audio Workstation) can be a daunting process these days, as many of them have reached a similarly high level of functionality and usability.
In this article, we will look at one of the most popular current DAWs, FL Studio, to see what it does well and areas in which it is weaker.
Once we are done, you can decide if FL Studio is the right DAW purchase for you.
What FL Studio Does Well
To start things off, we will look at the areas in which FL Studio does well and how they can benefit you in your productions.
Usability
One of the critical aspects in which FL Studio excels is in its usability.
It is often regarded as one of the best DAWs to use if you are starting out as a music producer.
Making a DAW easy to learn and use must be tough to pull off, given how much functionality needs to be easily accessible to the user. However, they have pulled this off to significant effect with FL Studio.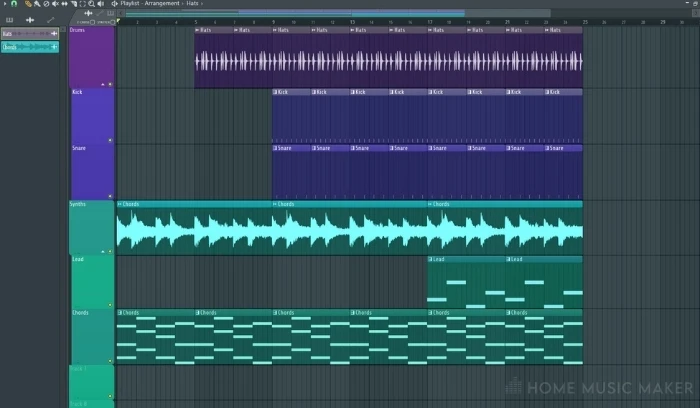 It features a very intuitive design, allowing users to get to grips with everything the software offers quickly.
For those who are just starting, it's beneficial to watch some tutorials which can help you get a basic understanding of the layout and features of FL Studio.
Thanks to FL's superb usability, these tutorials are often short. They do not need to go into great detail to get the basics across.
If you are looking for a tutorial to get you started with FL Studio, you can try this one by the YouTube channel 'In The Mix.'
FL Studio Functionality
Once you have become accustomed to the basics of FL Studio, you will start to realize that there is a genuinely great range and depth of functionality within the DAW.
It contains all of the features that a professional would require from it.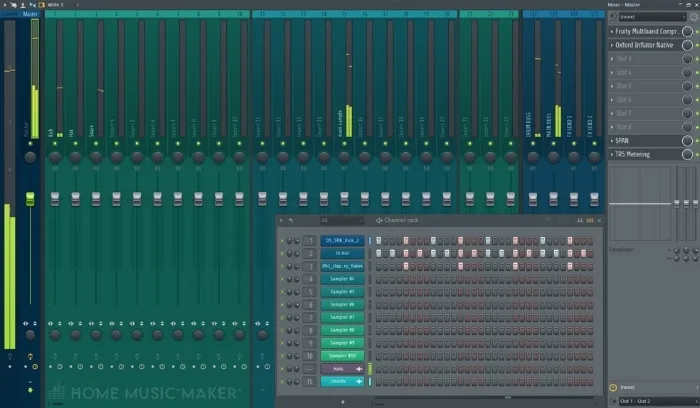 Features include a step sequencer, separate mixer, piano roll, audio recording, stem bouncing, and much more! All of these features add up to create a comprehensive list of pretty much everything a music producer could want from their DAW.
FL Studio Customizability
Another great feature of FL Studio is the ability to change the look and features of the DAW to suit your tastes.
You can adjust everything from the positioning of windows, the size of the mixer channels, and the colors of different parts of the DAW.
All of this adds up to making FL Studio truly adaptable to your personal preferences.
Also, in the customizability department, you can create something called a project template. Templates allow you to save a project file to be your default when you boot up FL Studio.
For example, suppose you always use the same plugins on your master or drum bus. In that case, you can simply save and select them as your default template, which means that the next time you open FL Studio, the saved channel rack will already be there in your project.
Templates are a great time-saving feature, and they can be customized to no end, meaning that you can make them as in-depth or as simple as you want them to be.
FL Studio Native Plugins
Native plugins are a significant factor to consider when deciding which DAW to choose.
In recent years FL Studios suite of native plugins has steadily been evolving and growing, to the point where it rivals its main competitors.
Everything you would expect from a native plugin suite can be found here, from compressors to parametric equalizers. They are all of great quality in terms of presentation and sound.
In addition to these more expected plugins, you get access to various VST plugins, such as Sytrus, Harmor, and the latest addition FLEX.
These synths are very high quality and offer the user great control over sculpting their sounds.
They also feature a wide range of presets, and you can find many more with a quick search on the internet.
What FL Studio Doesn't Do So Well
With all that being said, there are some areas in which FL Studio leaves a little to be desired.
Limitations In Usability
As mentioned above, there are many things that FL Studio does well in terms of usability. However, there are still a few areas in which it falls short in this department.
Firstly, the lack of tutorials inside the DAW might be slightly off-putting for anyone trying to learn the basics.
Other DAWs feature tutorials for those looking for them; however, FL Studio has no such feature yet.
Another area where usability could be better is that some features and tools are tricky to find if not told or shown directly where to find them.
Some of the essential tools are hidden away in the menus, making them tough to find for new users.
If you are new to FL Studio, you can look at our guides here on Home Music Maker for some tips and guidance.
These guides cover areas such as how to quantize, how to randomize velocity, and much more.
Limitations In Functionality
FL Studio has pretty much all of the bases covered when it comes to functionality.
However, one of its main rivals in the DAW space is Ableton, which has a few functionality features that FL Studio hasn't got an answer to at the moment.
These features come in the form of 'Max For Live,' which gives Ableton users the tools to make whatever they desire in the DAW.
To achieve this, they have allowed users to use the same tools that their own developers use to make the native plugins, which means that the list of native plugins for Ableton is virtually endless!
In response, FL Studio does feature a device called 'Patcher,' which allows you to link together different plugins and parameters all within one device. However, it is not on the same level of depth and customizability as Max For Live in Ableton.
Of course, this may swing back in favor of FL Studio further down the line as it develops, but it is worth keeping in mind if that sort of thing interests you currently.
Related Questions
Is FL Studio worth the money?
Suppose you are passionate about being a music producer and looking to get the most out of the software. In that case, FL Studio is definitely worth the money. As stated in the article, it is up there with the very best DAWs and is a choice for all levels of music producers.
Which version of FL Studio should you get?
It all depends on what you are looking to get out of the DAW. It might be best to go for the most basic edition if you are starting out in music production, as you can always upgrade further down the line.
However, if you want more tools and functionality, you may want to consider some of the more expensive editions depending on what you think suits your needs the most.
Can you get a trial of FL Studio?
You can download the FL Studio trial here for both PC and Mac Users. There is no time limit with this trial. However, you cannot re-open saved FL Studio projects. Regardless of this, the trial is a great way of seeing whether or FL Studio is to your liking or not.
Is FL Studio the best DAW for beginners?
Most popular DAWs are a reasonable choice for beginners today, as most of them have fantastic usability. FL Studio is a good choice for those new to producing. Its popularity means that there are many resources where you can learn different tips and tricks about it.
Can you easily switch from Ableton to FL Studio?
Switching DAWs may come more easily to some than to others. The length of time you have been using a DAW may also play a large part in how easily you can transition from one to another. In general, most DAWs have similar features but are arranged in different ways visually, so adjusting your workflow would likely take some time.
Does FL Studio ever go on sale?
Image-Line does put FL Studio on sale throughout the year at typical sale times, such as Black Friday. However, they usually do not announce when it goes on sale, so it's best to check frequently whether or not it's on sale.
Which version of FL Studio should I get if I'm a beginner?
It is recommended that you go for either the FL Studio Fruity Edition or FL Studio Producer Edition if you are new to music production. Both of these editions provide what you need to begin learning, with the producer edition offering a more comprehensive suite of features to make use of, but at a higher price.
Final Words
Overall, FL Studio deserves to be up there with the very best DAWs you can currently purchase.
It comes packed full of superb usability and features you would expect and is a valid option when choosing which DAW to use.
It has some shortcomings in beginner-friendly usability, and it does get trumped in certain areas by its main rivals. However, these are relatively minor issues when weighing them up against what FL Studio does well.
If you are considering purchasing FL Studio, be sure to check out the different editions you can get and what features they come with.
You can also get the All Plugins Edition – With audio recording, full playlist features, and ALL FL Studio native plugins (no VST plugin) this really is a serious package!
Differences mainly come down to features and which VST plugin options you get.
You will also receive a lifetime FREE update for FL Studio once you purchase it, which can only be a good thing!
For a Full FL Studio Comparison Click the Link Below:
Compare FL Studio Editions Page: