Although they do have their differences, REAPER and Logic are both incredible DAWs (Digital Audio Workstations). REAPER is excellent for recording/tracking, while Logic is great for modern music production. Whether you should go with Logic or REAPER depends on your preference and your audio/music production needs.
REAPER And Logic Shootout
When comparing two incredible DAWs such as Cockos REAPER and Apple's Logic Pro, it can be hard to decide which one you should use.
However, If you take your time and do some research, you can make an informed decision on which digital audio workstation best suits you.
After exploring the two DAWs and their unique features, I personally use both REAPER and Logic in different circumstances.
In this detailed DAW shootout, we will compare REAPER and Logic and take a close look at the features of the two.
Let's start by looking at the two DAWs we are comparing today.
REAPER Overview
REAPER is an incredible DAW developed by a company called Cockos. Cockos released REAPER in 2006, and it has slowly but surely been gaining a loyal and dedicated following.
REAPER is an acronym for Rapid Environment for Audio Production, Engineering, and Recording.
It certainly lives up to its name; you can use REAPER for anything within the realm of audio/music production. From my experience, there is nothing another DAW can do that REAPER can't do.
Although there might not be as many people who use REAPER as other DAWs (including Logic), it is a fantastic music production software that you can use to accomplish anything involving audio production.
REAPER Pros
REAPER is a low-cost DAW
REAPER is available for all operating systems
REAPER supports 32 and 64-bit VST plugins
REAPER Cons
REAPER does not come with any virtual instrument plugins
REAPER has a ton of features which gives it a somewhat steep learning curve
Logic Pro Overview
Logic Pro is a music/audio production software made by Apple and released in 1993.
Over the years, Logic has cemented itself as a staple within the audio industry. More and more professional producers and famous artists use it these days than ever before.
Logic Pro has all the tools you might need to record and produce professional quality music of any genre or style.
With Logic's incredible user interface/features and how many professional producers use it these days, it is easily one of the top DAWs.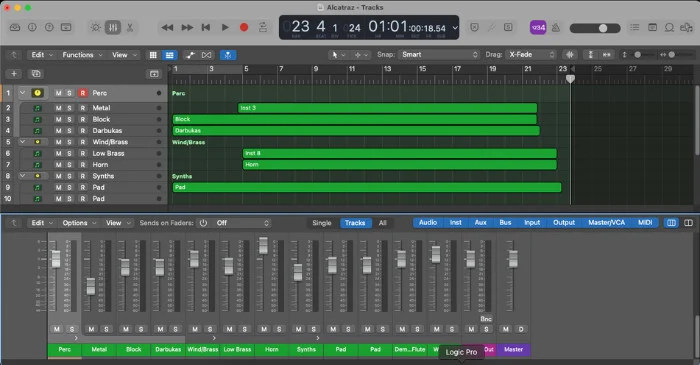 Logic Pros
Logic is pretty easy to learn
Lots of other artists and producers use Logic
Logic is great for modern music production
Logic Cons
Logic only runs on macOS
Logic only supports AU plugins
Logic is not as customizable as REAPER
Logic is a bit more expensive than REAPER
Features Face To Face
Now, let's compare some of the main features of REAPER and Logic.
Price
When it comes to price, REAPERdefinitely has the upper hand.
Logic Pro currently costs $199.99, while the full license for REAPER is only $60. That is an incredible deal for what you get with the DAW.
My pick for this category: REAPER
OS Compatibility
On the topic of operating system compatibility, there is one crucial thing to note; Logic Pro is only available for the Mac OS. You cannot use Logic on anything that is not an Apple computer.
Meanwhile, REAPER is available for Mac, Windows, and Linux operating systems.
My pick for this category: REAPER
Ease Of Access
When it comes to picking a DAW with a less steep learning curve and an entire collection of music production tools, I definitely lean towards Logic Pro X.
I'm a huge REAPER fan, but it takes time to learn because of its features and more open-ended workflow.
Meanwhile, Logic Pro is pretty easy to learn and comes with everything you need to produce music right out of the box.
My pick for this category: Logic
Community
REAPER and Logic have vast user bases active in the online music community via threads, forums, YouTube, etc.
Both DAWs have incredible communities, and if you have a problem with something within them, there is probably a tutorial video or an answer available.
However, because Logic Pro has been around longer and is a bit more popular, it might have a leg up on REAPER here.
My pick for this category: Logic
Download Size
REAPER's download only takes 11MB-25MB, depending on your operating system. In contrast, Logic takes up either 1.1GB or 95.5GB (depending on if you download the sound library or not).
No matter how you slice it, the choice is clear on this one!
My pick for this category: REAPER
Plugins
Both REAPER and Logic come with a collection of excellent mixing and mastering plugins.
The difference is that REAPER's plugins are pretty basic, looking to save CPU power, while Logic Pro's plugins have fantastic visual displays.
Both DAWs' plugins will give you great results, but Logic's are a bit more pleasing to work with.
Let's take a look at some of my favorite plugins for each DAW:
Logic Plugins
Here are some of my top Logic Pro X plugins:
Pedalboard
Pedalboard is an incredible Logic Pro plugin that can simulate many different guitar and bass effects pedals.
You can use these pedals conventionally by pairing them with a guitar/bass, or you can experiment with them and use them on just about any audio signal!
Amp Designer
The following Logic plugin that I want to show you is the Amp Designer.
The amp designer has emulations of a bunch of famous guitar amps and speaker cabinets.
If you are a Logic user, you can pair the Amp Designer plugin with the Pedalboard plugin and have a great guitar recording rig just like that!
Also, the Bass Amp Designer is a great plugin for bass amplifier emulation.
Space Designer (Reverb)
The Logic Space Designer is a sweet reverb plugin that you can use to simulate super realistic acoustic environments.
When I need a truly amazing-sounding reverb plugin, I reach for the Logic Pro Space Designer.
Delay Designer
The Delay Designer plugin in Logic is another awesome FX plugin.
Delay Designer is an uber flexible multitap delay plugin.
This plugin allows you to use up to 26 individual delay taps.
If creating complex delay rhythms is something you need to do, you will love the Logic Delay Designer!
Rotor Cabinet
The last Logic Pro plugin I want to show you is the Rotor Cabinet plugin.
This plugin recreates the sound of a rotating horn loudspeaker such as the ones used with vintage Hammond organs. This is such a unique effect.
It is fantastic that Logic decided to include this in its plugin collection!
Keep in mind that these are only a few of my favorite Logic Pro X plugins, and there are tons and tons more awesome ones that you can use to enhance your music.
REAPER Plugins
Here are a few of my favorite REAPER plugins:
JS: Event Horizon Limiter/Clipper
JS: Event Horizon Limiter/Clipper is one of my favorite limiter plugins of all time.
This helps to not only limit the audio that you are working with but also give it a little bite!
JS: Huge Booty Bass Enhancer
Another top-notch REAPER stock plugin is the JS: Huge Booty Bass Enhancer.
This plugin boosts the low-end of whatever you are working with and is sure to give your track that extra 'bump' it needs!
JS: Delay w/ Tempo Ping Pong
JS: Delay w/ Tempo Ping Pong is an easy-to-use and excellent sounding ping pong delay plugin within REAPER.
Because of its great sound and easy-to-use interface, this REAPER plugin is my go-to ping pong delay.
JS: RBJ 1073 EQ
This REAPER EQ plugin emulates the famous Neve 1073 EQ, which is very common in many professional studios for its unique and authentic sound.
If you want an EQ plugin that will add a bit of vintage color to your track, try the JS: RBJ 1073 EQ!
JS: Thunderkick
The last REAPER plugin I want to highlight today is the JS: Thunderkick plugin.
This is another low-end enhancement plugin in REAPER that sounds especially great on kick drums.
If you want to give your kick drum the extra punch and presence it's missing, give JS: Thunderkick a try.
As you can see, REAPER's stock plugins are much more basic looking than Logic's; however, they still sound great and are easy to use.
My pick for this category: Logic
REAPER and Logic Pro X's visual displays are both excellent. They are easy to navigate and visually enticing.
However, I think that REAPER's display is a bit more intuitive. I find it easier to find my way around, adjust zoom, adjust track position, etc.
In REAPER, I also find it much easier to view my tracking screen and mixer simultaneously.
It feels a bit more cluttered in Logic. Keep in mind that this one is definitely quite an opinion-based topic.
My pick for this category: REAPER
Recording
When it comes to recording, you can use either DAW to get great results, but I think that REAPER is way easier to set up and run a session.
I've done a ton of recording sessions in REAPER myself, and I love it!
REAPER is better for live instrument recording, while Logic is better for modern music production.
Check out this REAPER feature called 'The Routing Matrix' that you can use to set recording inputs easily for any size session.
My pick for this category: REAPER
Modern Music Production
Either DAW is a viable option for modern music production, but Logic Pro X has more tools, features, and sounds to help you get the job done.
Not to mention, many top music producers and artists rely on Logic Pro X for their music creation.
REAPER is an outstanding DAW, but it is not as good for modern music production right out of the box as Logic is.
My pick for this category: Logic
Routing/Grouping
Routing, grouping, and organizing tracks to make up your audio signal chain can be a total headache, no matter what DAW you use.
However, in my opinion, REAPER has some of the best features for routing and grouping tracks.
For example, you have the Routing Matrix, the send/return menu, and the ability to create a BUSS track and multiple sub-BUSS tracks within a BUSS track.
This allows for total control over your REAPER project!
In Logic, you can create a 'Track Stack,' which enables you to mix several items under one BUSS track, but you cannot create additional Track Stacks within the main Track Stack.
My pick for this category: REAPER
Editing
In my opinion, few DAWs (including Logic) can rival REAPER's editing abilities.
A major thing that bugs me about Logic is that you cannot simply duplicate a track and cannot fade in/fade out an audio track without opening the 'Editor.'
REAPER's editing workflow is easy to work with and super smooth.
On the other hand, the editing in Logic seems a bit restrained or buffered in a way; I don't like this.
My pick for this category: REAPER
External Controller
Both REAPER and Logic have an option for an external controller that you can use to control a session with your phone or other devices.
The difference is that Logic has a dedicated app on the app store called 'Logic Remote' while REAPER just has a more basic web extension.
Compare the two controllers; you will notice that Logic Remote gives you many more options for running your Logic Pro X session.
In contrast, REAPER gives you basic control over the digital audio workstation.
My pick for this category: Logic
Rendering/Bouncing a Track
The track rendering menus in REAPER and Logic give you complete control over how you bounce a finished track from your DAW.
Still, Logic is missing one of my favorite features.
REAPER allows you to render by region, which is great for rendering multiple tracks in your one project at the same time.
Another great REAPER feature is the 'Region Render Matrix,' which allows you to choose what tracks you want to render.
This is handy if you want REAPER not to render specific instruments or regions.
Some users might prefer Logic's menu for bouncing/exporting a finished track, but I prefer REAPER's track rendering menu for the render by region feature.
My pick for this category: REAPER
Stand Out Features
Next, we will look at some of the stand-out features of each DAW.
REAPER
Here are some REAPER exclusive features:
Customizability/Scriptability
In my opinion, REAPER has a leg up over Logic on its customizability and scriptability.
For example, you can completely customize its layout and toolbars and create your own custom actions and hotkeys.
Not only this but the tools and functions within REAPER are so unbuffered that even if there is a feature that another DAW has that REAPER does not, you can always re-create this feature another way in REAPER.
Where some DAWs feel like they have training wheels or bumpers in place, REAPER is a totally flexible/scriptable music production software.
REAPER Theme Adjuster
Another incredible REAPER feature is the Theme Adjuster.
The REAPER Theme Adjuster is a tool you can use to change the visual appearance within REAPER. You can use it to customize track colors/layout, lighting, contrast, and much more.
The REAPER Theme Adjuster is just another example of REAPER's incredible customizability.
Logic
Here are some Logic exclusive features:
Virtual Instrument/Sound Collection
One thing that really stands out about Logic compared to REAPER is its extensive collection of virtual instrument plugins, audio samples, and loops.
While Logic comes with all the instruments and sounds you might need to produce great music; REAPER does not. REAPER users have to acquire their own collections of instruments and samples.
One reason to go with Logic Pro over REAPER is its top-notch sound library.
Popularity Among Pro Producers
Something that stands out about Logic is its popularity among professional music producers.
Although some pros use REAPER, there are not nearly as many as Logic, and they are typically not nearly as renowned.
Here are some professional producers who use Logic Pro:
Finneas
J. Cole
Calvin Harris
Kygo
Swedish House Mafia
Pharrell Williams
Kendrick Lamar
As you can see, some absolute music production beasts use Logic Pro.
Is REAPER a Complete DAW?
Yes, REAPER is a complete digital audio workstation that you can use to record and produce professional quality music.
The only thing that REAPER does not have is a library of virtual instruments, audio samples, and loops; you can, of course, use third-party virtual instrument plugins and samples, but REAPER does not include any right out of the box.
Although REAPER does not have a collection of instruments and sounds, it is still an incredible and powerful DAW that is quickly gaining popularity and support.
Does REAPER Work Well On Mac?
Yes, REAPER works quite well on the Mac Operating System.
I have been using REAPER with my Mac Mini for about two years now, and I have never experienced any glitches or bugs (except for the occasional issue while running huge project files, of course).
While your Macintosh computer's specifications also influence how well it can run REAPER, the Mac Operating System typically handles REAPER with no issue.
Is REAPER Good For Electronic Music?
In my opinion, yes, REAPER is pretty great for working in all genres, including electronic music or EDM.
The only possible snafu you might encounter when working on electronic music in REAPER is that it does not come with any virtual instruments or sounds.
However, I believe it's best to build your own sound and instrument library from multiple sources rather than relying on only sounds in your DAW; this will help you have your own unique sound collection.
Because of its awesome user interface, tools, and features, I think REAPER is an excellent DAW for electronic music production.
However, it is not as popular for making electronic music as other DAWs, such as Avid Pro Tools, Ableton, Logic Pro, or FL Studio.
Do Professionals Use REAPER?
Although REAPER might not be as popular as other DAWs, it is used by professionals.
REAPER is an amazing DAW, and I am confident it will only grow in popularity over time in the audio industry.
Is REAPER The Best DAW?
While I use REAPER as my primary DAW for everything from recording and producing to composing music, it's hard for me to say it's "the best DAW definitively."
This is because plenty of other DAWs are also super powerful and often more prevalent than REAPER, such as Pro Tools, Logic Pro, etc.
While I love and highly recommend REAPER to anyone in the audio industry, I can't necessarily call it "the best DAW."
However, I do consider it to be one of the best!
Is Logic Pro Worth It?
Yes, Logic Pro is one of the best and most popular DAWs these days, and it is well worth the cost.
Logic Pro is chock-full of amazing tools/features and an excellent user interface that makes it super powerful and flexible.
It is definitely worth the price!
Does Logic Pro Have Autotune?
Yes, Logic Pro has a stock autotune plugin called "Pitch Correction" that you can use to tune the pitch of your vocal track.
You can use Autotune sparingly to correct the pitch of a vocal track, or you can use it more aggressively to achieve that signature robot-like autotune sound.
You can find Logic's stock autotune plugin in your Logic plugin collection's "Pitch" folder.
Although Logic's "Pitch Correction" plugin is not as fancy or advanced as some of the more popular third-party autotune plugins, it can still deliver the same great results!
Do Professionals Use Logic Pro?
Logic is an incredibly popular DAW, and many professional producers use and rely on it daily for audio/music production.
There are plenty of different options for someone looking for a professional DAW, but Logic is definitely one of the best.
Is Logic Pro The Best DAW?
It is hard to call any single music production software "the best DAW." Still, Logic Pro is an incredible DAW that more and more professional audio engineers, producers, and composers are using these days than ever before.
Although I can't singlehandedly declare Logic Pro to be the best, it is up there!
Related Questions
Does REAPER Come With Autotune?
REAPER comes with a plugin called 'ReaTune,' which you can use to manually or automatically tune your vocals.
Although there are options for fancier or more attractive autotune plugins, ReaTune works quite well.
Is Logic Pro Good For Mixing?
In my opinion, yes, Logic Pro is good for mixing.
Logic Pro has all the tools and plugins you might need to dial in an excellent mix for any genre of music.
Can You Still Use REAPER After 60 Days?
Although REAPER will continue to work even after your free 60-day trial, you should purchase the license once that time comes.
The full license for REAPER only costs $60; there is no reason not to support the manufacturers and help REAPER improve.
Final Words
As I have shown you, REAPER and Logic are both excellent music/audio production software that you can use to record, produce, mix, master, and so much more.
Although both DAWs have their differences, you can produce high-quality and professional music and audio in either.
Use REAPER if:
You want a fully functional DAW for only $60
You want a DAW that you can customize to make your own
You don't have a Mac computer and don't plan on getting one
Use Logic if:
You want to use a DAW that tons of professional music producers trust and rely on daily
You want a DAW that comes with a virtual instrument collection and audio samples/loops
You have a Mac computer
While I use both REAPER and Logic, if I had to pick a winner, it would be REAPER for its flexibility, customizability, and scriptability.
However, remember that I am a bit biased, and this debate is partially just a matter of opinion.
For more reading, check out how REAPER stacks up against Studio One.