MainStage can be used without Logic. Apple MainStage is an entirely different software from Logic Pro and is for live performance instead of music production. Both MainStage and Logic are excellent software, but they are independent of each other.
Using Logic Without MainStage
It can be tricky sometimes to know what specifications you need to use a specific music production software and which one is the right for the task.
Thankfully, with some research, you can always determine what you need to use such programs and optimize your music production setup.
Now that I have my audio production setup figured out, I have no regrets about the hours of work I've put into getting to this point.
In this article, we will see what specifications you need to use Apple MainStage and whether or not you can use it without Logic.
Can You Use MainStage Without Having Logic Pro?
MainStage and Logic Pro X are two different music production software, and you can use them independently.
Although they share many of the same features and the same virtual instrument and audio sample collection, Logic Pro is for in-studio recording and production.
MainStage is for aiding you with live performance.
Because they are two different pieces of software, you can use MainStage without having Logic Pro.
Is MainStage Part Of Logic?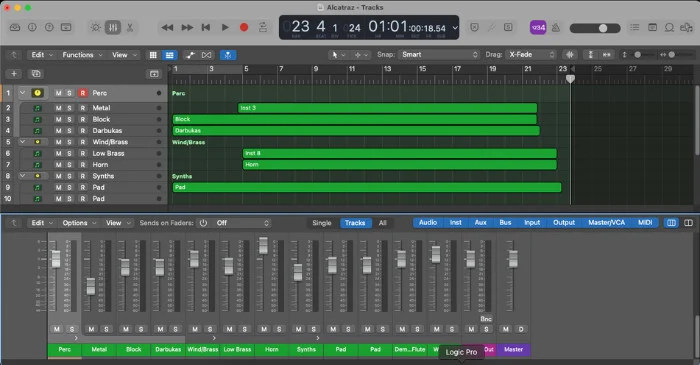 MainStage is its own independent music production software from Logic Pro X.
As mentioned above, MainStage and Logic share the same library of virtual instruments and audio samples and many of the same features but are unrelated otherwise.
What Is Needed To Run MainStage?
Here are the minimum system requirements to run MainStage on your Mac computer:
macOS 11.5 or higher
4GB of RAM(Random Access Memory)
6GB of available storage space for software install
72GB of available storage space (if you want the complete Sound Library installation)
78GB might seem like a lot of storage space, but the sound library within MainStage has some great stuff that you do not want to miss out on!
Although these are the minimum system requirements for running MainStage on your Mac computer, I recommend having something more like at least 8GB of RAM (16GB or higher for optimal performance).
The last thing you want is your computer freezing up or causing issues while you're on stage!
Can You Run MainStage And Logic At The Same Time?
If your computer is powerful enough to handle the CPU (Central Processing Unit) load, you can run MainStage and Logic at the same time.
You can even record the output of one software into the other or vice versa by either adjusting your output settings in the preferences or using a third-party audio routing software such as Soundflower to send MainStage's output into Logic.
Keep in mind that if you try to run MainStage and Logic simultaneously, the two programs will compete for CPU and RAM resources.
This will require a powerful computer if you want things to run smoothly.
Because the two programs have similar sounds and features, I recommend using one or the other if possible.
What Is The Point Of MainStage?
MainStage is a music production software that you can use in your live performance by turning your computer into an instrument and channel strip effects processing rig.
MainStage has a vast collection of virtual instruments, audio samples, and loops that you can use to enhance your live concerts, no matter what genre or instrument you play.
You can even use MainStage to record your live performances and listen back to them after your concert is over.
Although MainStage takes a bit of time and effort to get the hang of, it can significantly help live performers.
Is There a Free Version Of MainStage?
Unfortunately, there is no free or trial version of MainStage. If you want to use MainStage, you will have to purchase it.
Also, keep in mind that MainStage is only available for macOS devices; you cannot run it on Windows, Linux, or anything other than Mac, for that matter.
Even though there is no free version of MainStage, it is available at a low price. It is worth the investment to take your live performances up a notch.
Related Questions
Is Logic Pro a Good DAW?
Logic Pro is an outstanding DAW (Digital Audio Workstation).
It is an all-inclusive music production software with virtual instrument options, audio samples, loops, etc.
Not only is Logic somewhat easy to learn the basics of, but it is also used by many music and audio professionals.
When Was MainStage Released?
Apple released its live music performance software, "MainStage," on September 12, 2007.
Is MainStage Good For Live Music Performance?
Yes, in fact, Apple designed MainStage for live performance enhancement.
MainStage features a ton of different virtual instruments, audio samples, and effects that you can use to take your concerts to the next level.
What Is Logic Remote?
Logic Remote is a free app available on the Apple App Store that you can use to externally control a Logic X session on your computer with a mobile device, iPad Pro, etc.
Logic Remote has many features that make recording in Logic X very easy, especially if you are not sitting right in front of your computer.
Final Words
As you can see, because Apple MainStage and Logic Pro are two completely different software, you can use MainStage without having Logic Pro and vice versa.
Remember, MainStage is for live performance, and Logic Pro is for recording, producing, mixing, etc.
Although they are both great programs, they are for different applications within the world of music and audio.
Fancy reading some more? Check this article and find out if Logic Pro can run on an iPad.