To add drum kits to FL Studio, locate the drum kit directory on your computer and drag it into the FL Studio Browser. Alternatively, open the FL Studio Preferences or Options, select the File tab, and add the path to the drum kit's directory.
Drum Kits In Fl Studio
Drum kits work as foundational jumping points in modern beat making and production. But how do we work with them in FL Studio?
Let's dive in and take a deeper look. You'll be up and running using drum kits in your production workflow with FL Studio in no time!
What You Will Need To Follow This Tutorial
FL Studio 12 or higher
Computer with peripherals to control the FL Studio User Interface
Drum kits to add to FL Studio
The base step to this task is obtaining a drum kit. There are many resources for finding great free and paid-for drum kits across the Internet.
The rest of this article assumes you have a drum kit as a .ZIP file on your computer. If you don't, you can easily download one and continue.
There are two ways you can add a drum kit to FL Studio. Both are relatively straightforward.
We'll look at both approaches and discuss the difference between them.
Step 1. What Is A Drum Kit?
A drum kit, sometimes called a drum sample pack, is a collection of short drum samples, usually in .WAV format used as building blocks for beats and production.
The sounds in the drum kit are either computer-generated or samples of actual real-world drum elements such as a snare drum, kick drum, or hi-hat.
If you envision a hardware drum machine, it has a set of samples associated with it-for example, an 808.
Multiple drum audio files organized into a collection on a computer make up a drum kit. That's really all that there is to it.
The audio files contain sounds of drums, either computer-generated or recorded from real-world instruments.
Step 2. Decompress Or Unzip The Drum Kit Archive
You'll need to decompress or extract the drum kit/sample pack archive (.ZIP) file you obtained from the Internet. You'll do this somewhere on the file system of your computer.
While not required, I'd recommend you organize the drum kits on your computer and keep them organized.
Over time you'll amass quite a collection of them, and it can be a challenge to locate the exact sound you're looking for. Keeping the drum kits organized and held together can help limit the amount of time you spend searching for sounds.
This will also help with simplifying adding the drum kits to FL Studio.
Right-click on the .ZIP or .RAR file to decompress the archive and select the appropriate option. Depending on your operating system and a few other variables, it will read decompress, unzip, or something to that effect.
Once you've decompressed the drum kit archive, you'll see the directory containing the individual drum kit audio files.
Here is a drum kit that I've created.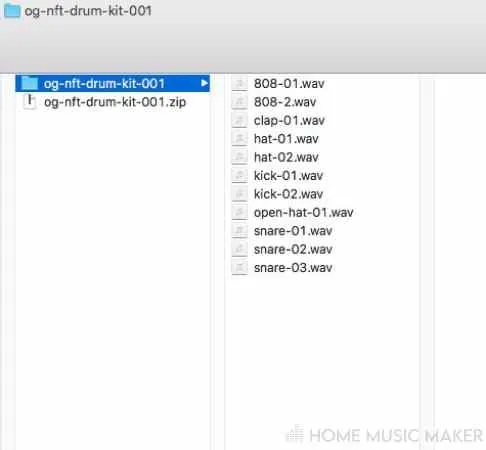 Step 3. Adding The Drum Kit To FL Studio
Adding an individual drum kit to FL Studio is a breeze. You can simply drag the directory you decompressed in step two into the Browser in FL Studio.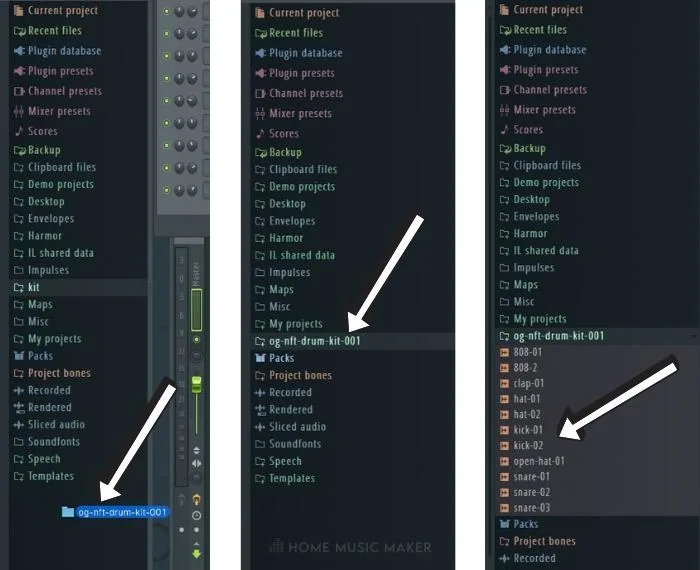 Take note that the kit will show up at the same level as the rest of the items in the Browser.
Another way to accomplish the same thing is to use the FL Studio Preferences. The File tab enables you to select directories on your hard drive for FL Studio to scan at startup and display in the Browser.
Click a folder with a blank path next to it and select the directory you want FL Studio to display in the Browser.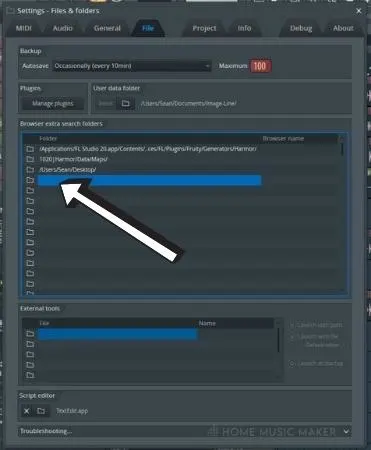 Either of these approaches works excellent for adding drum kits to FL Studio.
Once the kit is in FL Studio, using the sounds is as simple as dragging them into the Playlist in your Project. You can also load them into the default FL Studio Sampler or a sampler of your own choosing.
BONUS TIP
Remember when I encouraged you to keep all of your drum kits organized on your hard drive?
This can be a bonus for organizing drum kits in FL Studio.
Rather than drag individual drum kits into the FL Studio Browser, you can add one main directory in the FL Studio Preferences under the File tab.
Name that directory something intuitive like Drum Kits For FL Studio. That will display in the Browser at the same level as the rest of the FL Studio default options.
Arrange your Drum Kits For FL Studio directory logically and perhaps by genre or feel, maybe even actual real-world drum machines.
This will help you keep a nice library of custom drum samples and kits readily available inside FL Studio.
Related Questions
How do you make drums hit harder in FL Studio?
Compression and EQ are two great tools in a producer's toolbox that can help shape individual drum kit elements. It's usually a good idea and powerful technique to add an EQ to remove and enhance frequency ranges for kicks and snares. Compression can help shape the sounds as well.
Another trick is to use slight distortion to individual drum kit elements.
So, how do producers make drum kits?
There are several approaches to making drum kits. Some are actual recordings of drum sets. They are played by session drummers or even the producers themselves.
Drum kits are also designed with real-world drum machines. The drum machines are recorded, and each drum kit element is captured and saved into a .WAV file.
In a similar fashion to real-world drum machines, computer-based drum machines and synths are also used to design drum kits.
What defines a good kick in a drum kit?
Kicks are usually "good," depending on who you ask and when. Different genres tend to use a few styles of kicks. If something outside that expected range is present, it could be perceived as "bad."
A "good" kick is a well-designed sound with a good, solid low end and a punchy mid-range. Most of the time, kicks are designed in mono, so this is something to watch out for.
Any clipping or too much distortion is poor sound design. You generally want to avoid any kicks that display either. Again, this can be desired in some cases and for some genres.
How Do I Use a Drum Kit?
Drum kits are a quick way to build up a drum loop. A drum kit contains all the drum samples you need to make beats. This usually includes kicks, snares, hi-hats, and other percussion and drum samples. The drum samples are arranged into patterns, and drum loops are created from those patterns.
Should I use a snare sample from a pack, or create my own sound from scratch?
Depending on how much time you have and what kind of sound you're going for, it could be to your advantage to use a snare drum sample. This also depends on your experience with sound design.
If you can design a snare to sound exactly how you need with the tools you have at your hands, then it's probably a good idea. If you want a sound you're not familiar with, you still may want to use a sample at least until you match that sound exactly.
If you don't know how to design a snare to the exact sound you want and don't have the tools or time to do so, then using a sample might be a perfect idea and save you a lot of time.
How do you download these free drum kits?
It's usually pretty straightforward, and the website you find the drum kits on will have instructions for downloading. If the process is more involved than simply visiting a website and clicking a link to download a file, you might want to be wary.
The process usually involves you going to a site and downloading a file. There's not much else to it. You may be asked for your email at some sites.