Network as much as possible
Engage with rappers or Hip Hop music content on social media
Attend Hip Hop / Rap events in person
Approach rappers or producers in a friendly manner
Getting In Contact With Rappers
It can be disheartening if you're making beats but struggling to get in touch with rappers to work with.
Networking is essential as you look to form connections in the music industry.
Managing your social media accounts can be a challenge at times. As I found out, no one will ever rap on your beat if the only place they can find it is on your hard drive!
I'll explain how to approach rappers in a step-by-step guide later.
How To Meet Rappers
One of the best ways to meet rappers is to attend live events. This could be live music events, networking conferences, or musician workshops.
How To Find Rappers In Your Area
A great way to find rappers in your area is to use apps like Vampr.
Vampyr is set up in a similar way to popular dating apps.
The purpose of Vampyr is to connect with other musicians, forming friendships and potential collaborations rather than romantic relationships!
How To Get Rapper's Emails
The best way to get emails for rappers is to keep an eye on their social media accounts.
Often, even a famous artist will post an email where you can send beats too.
Failing that, you could approach people in a direct message, asking for a contact email. But remember that you might want to build a rapport with them before asking for contact details.
How Do I Find An Unknown Rapper
Finding an unknown rapper to produce for is a fantastic way to gain followers and grow together.
Social media apps like Instagram and Twitter can be a tool for you to find hidden talents.

Want to connect with other music producers for help and guidance?
Join our FREE forum today
and become part of our community!
Click Here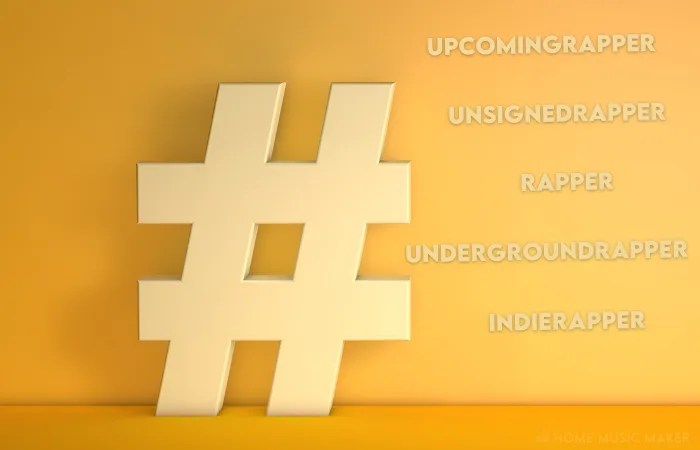 Try browsing by custom hashtags such as:
#upcomingrapper
#rapper
#unsignedrapper
#indierapper
#undergroundrapper
Different hashtags can pop up at any time.
Consider what you might tag your content with if you were an up-and-coming rapper looking for exclusive beats.
How Do You Talk To A Rapper
When talking to a rapper, remember that they are human like you.
Make sure you don't start a conversation trying to promote yourself, as this will put people off. Speak to people politely, showing genuine interest.
For example, you might want to start with something like this;
"Hey! I love your latest song, "XYZ" the lyrics are catchy, and I loved the hook."
After a response, you could then mention that you are a producer but try not to come across as a salesperson.
Ask if they are looking for beats, and if so, what kind? (But, keep in mind; if every track they've released is Drill, they're probably not going to want a boom-bap beat).
The rapper will more likely engage with your content if you've shown a genuine interest in them.
How Do You Send Beats To Rappers
After establishing a connection, you can use various methods to send beats to rappers.
If you have your own beat store, send the rapper your store link and let them browse your beats there.
You can also send beats in social media DMs or use email campaigns.
Be careful using the more direct methods because you don't want to overwhelm people. Ensure you're not always trying to sell or promote a beat when contacting a rap artist.
Vary your communications and try to offer value to them in between the sales attempts.
What You Will Need To Follow In This Tutorial
At least one beat or instrumental
Social media
An email account
How To Approach A Rapper – Step-By-Step Recap
Step One: Make sure you have a beat, or a handful of beats, ready to send in case the rapper shows an interest in you.
Step Two: Start browsing custom hashtags on social media sites (#undergroundrapper, #rapper).
Step Three: Once you have found a rapper you like, drop them a follow.
Step Four: Check their discography, so you have a better understanding of them as an artist.
Step Five: Send them a friendly direct message introducing yourself. Don't try and collaborate or promote your beats straight away.
Try and maintain an engaging conversation, complimenting songs of theirs that you like. But, give them space and don't force it.
Step Six: After a back and forth, consider bringing up the fact you produce beats. But don't immediately drop a link.
Step Seven: If they seem interested in the fact that you are a producer, then ask them if they want to listen to a beat you've made.
Step Eight: Consider asking how they'd like to receive the beat.
You could ask, "Is it okay to grab your email? Or would you prefer that I send a streaming link?"
Step Nine: If they give you their email, you can save that to a custom mailing list like MailChimp for later use.
Remember – If they don't show immediate interest, don't worry. Building a relationship takes time!
Keep up the conversation in a natural way. Try to engage with their content on social media whenever they post something new.
The more they see your name or face around the apps they use, the more chance they'll decide to check out your profile.
Related Questions
Where Do Most Rappers Look For Beats?
Platforms like Beatstars and Airbit have established themselves as fantastic sites for producers and rappers.
I recommend getting set up on one or a similar platform.
Rappers can search through these sites for beats. But, they also allow you to host your own beat store that you can promote elsewhere on social media.
Other places rappers will look for beats include Instagram, Twitter, Soundcloud, and Facebook.
How Do You Find People To Collab With In Music?
Networking is key.
You have to put yourself out there. Whether you do this online or in person is up to you.
Being active on social media and engaging with artists or producers is a starting point.
Discord communities have emerged as a great way to find people to collaborate with.
For example, Kenny Beats has a sample flip challenge streamed live on twitch. He also has a Discord server where producers can network; many others are popping up weekly.
You can also use apps like Vampyr.
For more music industry guides, check out this article looking at if producers get songwriting credits.