To merge audio clips in FL Studio, arrange the audio clips on a single Track in the FL Studio Playlist. Then click the "Playlist Track Header, Right-Click Menu" and select Consolidate this track. Choose to consolidate from the very start of the Playlist or from the selection start.
Merging Audio In FL Studio
During the music production process, there are a lot of cases where a multitude of bits and pieces of audio are used throughout an FL Studio project file.
Maybe this is during the initial creation process when building up loops. Or perhaps it's during sessions recording a live singer or instrumentalist.
This smattering of audio clips strewn throughout a project can become an organizational audio editing nightmare and even heed your creative process.
Thankfully there's a super handy trick that can help save time, disk space and expedite the song creation process in FL Studio.
The process is called merging audio clips and is accomplished by consolidating a track in the FL Studio Playlist.
Let's look at this further and explore the nuances of track consolidation or merging audio clips.
What You Will Need to Follow This Tutorial
FL Studio 12 or higher
Computer with peripherals to control the FL Studio User Interface
An FL Studio project containing a few audio clips to merge
Why Do You Want to Merge Audio Clips?
Many times when you're recording a real or virtual instrument, it will result in lots of small segments of audio spread throughout an FL Studio project.
This is also the case when recording singers and rappers.
A few techniques that can generate a significant number of audio clips are adlibs, punch-ins, etc.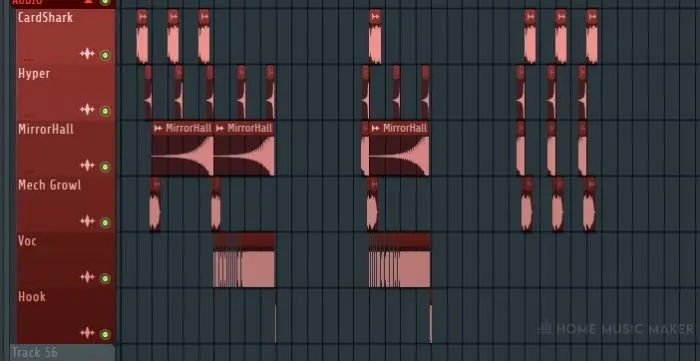 Disk space can also become an issue if there are a considerable number of recording takes. All the takes end up as multiple files.
It would really help to have all of the takes of the small segments of audio magically smashed into a single raw audio file.
Luckily FL Studio enables this functionality for us with a few clicks.

Want to connect with other music producers for help and guidance?
Join our FREE forum today
and become part of our community!
Click Here
Step 1. Move All of The Audio Clips to A Single Track in The FL Studio Playlist
First, you need to get all the audio clips you would like to merge rounded up and organized onto a single track in the Playlist.
An easy way to get all of the audio clips moved into a single Track is by using the Selection tool.
Once you've selected the multiple audio clips, you would like to move, hold down the Shift key and press the up and down arrow keys.
The up and down arrow keys will then move the selected multiple audio clips into the Tracks above and below the one they're in.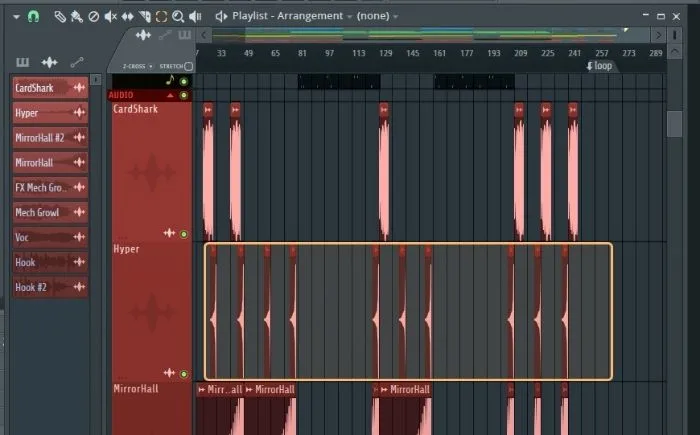 Select all the different audio clips you wish to merge and get them moved into one track in the FL Studio Playlist using this technique.
Step 2. Consolidate the Audio Clips In FL Studio
Once all of the separate audio clips have been moved into a single Track, right-click near the track name in the Playlist Track Header Right-Click Menu.
This is the area to the left of each waveform in the FL Studio Playlist.
Alternatively, you can use the keyboard shortcut Ctrl + Alt + C for Windows operating systems or Cmd + Opt + C for Apple operating systems.
Closer to the bottom of available options, you'll see Consolidate this track. There will be two sub-options underneath.
[INSERT IMAGE 06]
You can choose to consolidate from the very start of the Playlist or from the selection start.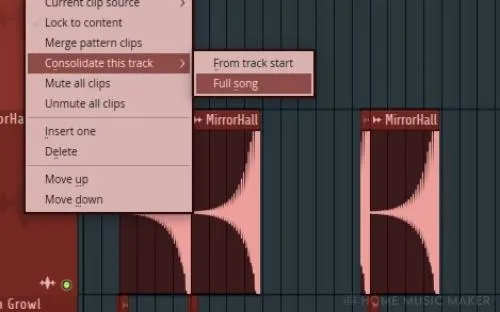 After using this option, the source Clips will be muted. To unmute the audio clips, you can press the (T) key to select the Mute tool, then click each audio clip you want to unmute.
Bonus Tip
Sometimes I use this technique to quickly build up a batch of drum loops to try out when working on a new song.
I can test out some different kicks, snares, and hats for a song or piece of a song. I arrange the elements on separate tracks to get the feel, then move them onto one audio track.
After that, I use the Consolidate this track function to get a single WAV loop of the drum elements.
This helps a ton with organization and builds out the arrangement quickly for the loop to see how it sounds in the song.
In the same fashion, top lines for drums can also be produced.
Rather than building a whole new drum loop, multi-drum-instrument complements can be created to supplement the track.
Related Questions
What is an Audio Clip?
An audio clip is essentially a raw WAV or MIDI audio segment drawn or painted into the Playlist.
The FL Studio documentation states, "The purpose of Audio Clips is to hold the samples displayed & triggered in the Playlist where they can be sliced and arranged as required."
What Does It Mean to Merge an Audio Clip?
Merging audio clips combines one or more WAV or MIDI audio clips into a single WAV file as a new audio clip.
What Types of Audio Clips Can Be Merged?
Both raw audio and MIDI clips (or Pattern clips) can be merged into a single audio clip.
The process is the same for both. Get all the clips you would like to combine onto one track and then right-click near the Track name. Then select Consolidate this track and use the best option for your needs.
Keep in mind the MIDI file (or Pattern clip) will be rendered as WAV audio and will no longer be editable.
Can MIDI Be Merged?
Yes, MIDI clips (or Pattern clips) in the FL Studio Playlist can be merged. They will be rendered to a single WAV audio clip and placed into the FL Studio Playlist.
The MIDI clips that were selected to merge will be muted.
Can Two or More Takes from A Singer Be Merged Into One File?
Merging takes from a session with a singer is an everyday use of FL Studio's ability to merge audio clips. Often, many small audio clips come together to form the entire song for a singer's performance.
This can include backup vocals and many other techniques. Simply select all the audio clips for the singer's performance and merge them into a single WAV. The background vocals could also be treated in this manner to keep the project nice and organized.
Can Merging Audio Clips Be Used to Create Melodies?
Capturing the live performance of an instrument can result in multiple segments of recorded audio. Even jamming around on a MIDI controller can result in several different takes.
Sometimes a few of the takes sound good played together in sequence as a melody.
This is a perfect time to merge the separate audio segments into a single audio clip. Select the audio clips you want to merge and move them onto one track in the FL Studio Playlist.
Then select Consolidate this track from the Playlist Track Header Right-Click Menu. Next, choose to consolidate from the very start of the Playlist or from the selection start.
Want to learn how to chop a sample in FL Studio? Follow this simple guide here.