If you have difficulties getting your AT2020 microphone to work, it is usually a good idea to start simple and ensure everything is connected correctly. You can then work through troubleshooting the other parts of the system, such as an audio interface or your computer settings.
Faulty Studio Gear Is Annoying!
It can be incredibly annoying if you purchase a new piece of gear only to find that it doesn't work out the box.
Microphones can be particularly susceptible to these types of issues.
This article will be looking specifically at the AT2020 microphone by Audio Technica.
To fix any issues you might be having with this microphone, we will look at how you can effectively troubleshoot to find out which part of the system is causing things to go wrong.
By the end of the article, you should know where to look to get your microphone working with your setup.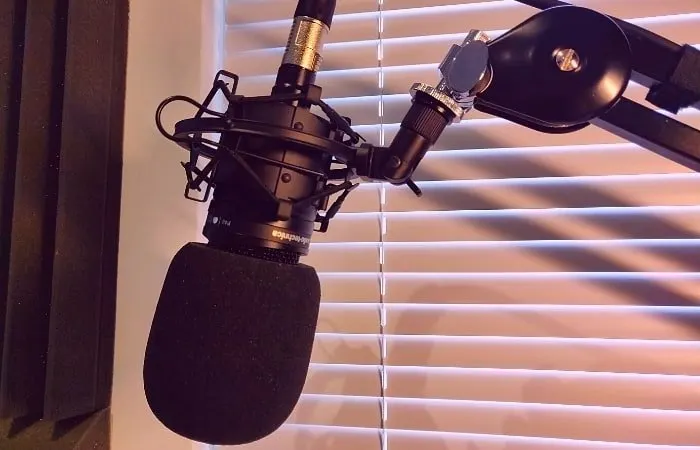 Checking Connections
To begin troubleshooting the issue, we will first start with the most simple causes of microphone faults.
In this case, you will want to check all of the connections going from your computer to your microphone.
Work your way down the connection, from the microphone to the audio interface and from the interface to the computer.
If you are using the AT2020USB+ (USB mic), carry out the same check along the USB cable and the USB ports.
To check the connection, ensure that the cables are securely in place at each end and that the cables are not damaged.
If you have issues here, you can try plugging in a different device apart from the microphone or using other cables. This can help determine which specific part of the connection is at fault.
Cable issues are one of the most common causes of microphone issues.
Luckily, it is one of the easiest ways to fix the problem, as cables are pretty cheap compared to other audio equipment.
Hardware Setup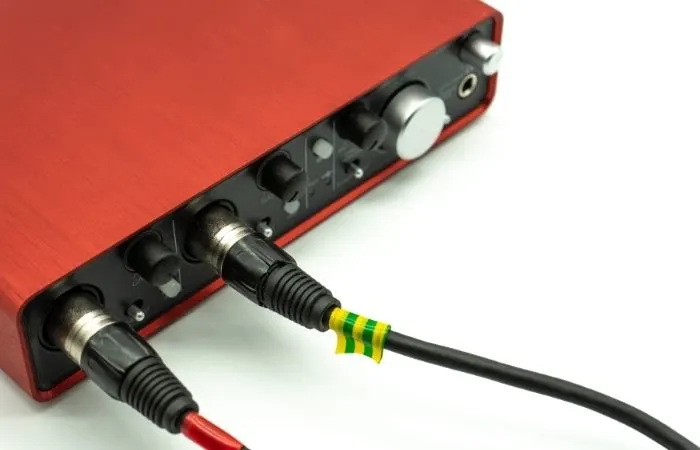 Another simple but easy overlook issue that you may face is that the Audio Technica AT2020 requires 48V DC power to function correctly.
Bearing this in mind, you will want to make sure that if you are using an audio interface that is capable of powering this type of connection.
Luckily, you can get the AT2020 powered with both XLR and USB output, so one of these should work with your specific setup.
Microphone Setup
Once you have checked that all of the connections are working, you will want to move onto the software side.
PC Users
To check that you have the microphone set as your input device on Windows, you can right-click on the speaker icon at the bottom right of the taskbar. Then select Open Sound Settings.
From here, you can check that you have the AT2020 set as your input device from the drop-down menu.
Below this, you can also check to see if the AT2020 is picking up the sound by using the microphone test.
Mac Users
If you are using a Mac instead, you can also check your microphone settings by going into your System Preferences. Once in the system preferences menu, you can navigate to the Sound Settings.
Within the sound settings, you will see all of the primary options you would expect to see, including those regarding microphone options in the Input Tab.
Here, you will change the input device to the AT2020 and check to make sure that it is working.
Suppose you are using the microphone within a DAW. In that case, you will also want to make sure that the microphone is recognized and used as the input device there.
Related Questions
Why is the Audio Technica AT2020 so popular?
One big reason the AT2020 is so popular is likely its price point, as it is very little in the way of competition in this price range.
You get a great mic capable of many different types of scenarios for the price. This means that you can use it to record a wide range of sounds and different sound levels.
What are the best budget microphones?
Apart from the Audio Technica AT2020, other great budget microphone options include the Shure SM57, MXL 990, Blue Yeti, Rode NT1-A, and the Shure SM58.
These options offer great sound quality for the price and provide an amazing amount of versatility. So you can know that they will work well no matter the situation and sound source.
Do you need an audio interface to use a microphone?
You will need an audio interface if you are using a microphone that requires phantom power or an XLR cable. This will be the case for most studio microphones, so you will more than likely want to purchase an audio interface before a microphone.
Do you need a microphone as a music producer?
Having a reliable microphone can open up a wide array of opportunities for adding new elements to your tracks, from recording vocals, instruments, and real-world foley recordings. A microphone is worthy for those looking to add these elements to their productions; however, it is not essential.
Do you need to have an XLR connection to use a microphone?
Many studio microphones use XLR connections as they are secure and offer the power that they often require. However, it has become a lot more common in recent years to have both an XLR and USB microphone variant available, such as the Audio Technica AT2020.
What is phantom power?
Phantom power, which is often referred to as +48V or P48, is intended to power microphones without bulky external power supplies. Its main usage is to power the condenser mic, a widespread microphone, especially for vocals.
What type of microphone is the Audio Technica AT2020?
The Audio Technica AT2020 is a large-diaphragm cardioid condenser microphone. It is very versatile and great for many situations. It also features a standard cardioid polar pattern to capture sound from almost any angle.
Final Words
Hopefully, after going through these steps, you can get your Audio Technica AT2020 microphone working correctly.
If this is not the case, unfortunately, there is a chance you have a defective microphone.
Want to learn more about the AT2020? See how it stacks up against the Rode NT1-A in our head-to-head shootout.